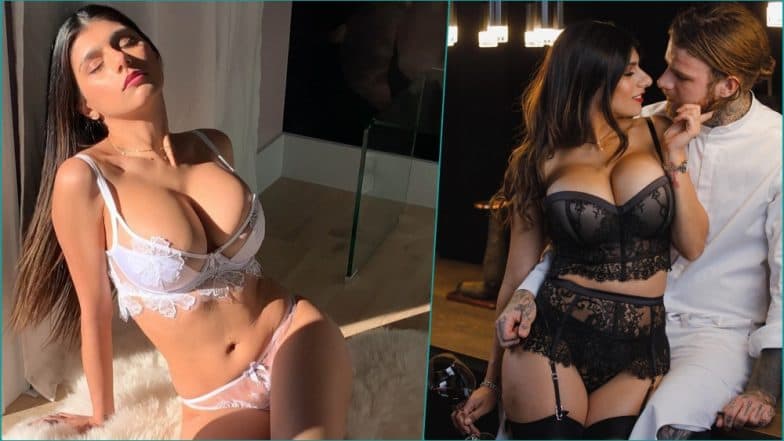 All of 26, but Mia Khalifa boasts of an army of followers and detractors. One may love or hate her, but there is no way anyone can ignore this XXX porn star turned sports commentator and webcam model. Being a socially-active person on social media, especially Instagram gives a good display of Mia's life to her fans. The former adult actress had recently given an update on the surgery required to repair her breast after being hit by a hockey puck. Do not worry, Mia is recovering well. If you're one of Mia Khalifa's 14million followers, you would very well know the Lebanese-born American social media celeb's Instagram page is a boob fest! Come 'on, there's nothing scandalous about it. Mia Khalifa, Former XXX Porn Star, Shares Glimpse of Her Recovery After Ice Hockey Puck Deflated Her Boobs; View Pics.
Mia who was ranked the number 1 performer on the leading adult website, Pornhub during her stint as a porn star continues to give her fans sleepless nights as a webcam model. Before we talk more about Mia Khalifa, here's a little bit about what do you mean by a webcam model. A webcam model is a video performer who is streamed upon the Internet with a live webcam broadcast. A webcam model often performs erotic acts online, such as stripping, in exchange for money, goods, or attention. They are free to choose the sexual content and its limits and also display nudity and indulge in highly sexually-proactive behaviour. So, that's what former XXX star Mia Khalifa's new job description is like. 'Hot Sexy Teacher' XXX Searches in India Grew By 423% on Pornhub.com.
A glance through Mia's Instagram handle, and you would know she is one of the hottest webcam models of all time. She chooses not to go stark naked in front of the camera but dresses minimal leaving nothing to the imagination. Smart we must say. Most of Mia's photos are shot in sexy lingerie, which reveals her busty bosom in full display. She always has her signature thick-rimmed glasses on to give those nerdy-sexy vibes. Then there are also pictures of hers showing her action as a sports commentator. To all those worried fans of the ex-adult actress who seemed concerned about her injury, here are her hottest and sexiest photos of Mia Khalifa.
What You Looking At?
View this post on Instagram
LOVE YO DAMN SELF
When Mia Khalifa Makes an Offer
Soaking Up The Sun
Can't Get Our Eyes Off That Chanel Neckpiece...What Did You Think?
What You Looking At 2.0
Watch Video: Joey Ryan Confronts Mia Khalifa at Intergender Wrestling Event
Speaking of Mia Khalifa's breast injury, which she sustained during an ice-hockey match, the girl is recovering following the four-hour "fat grafting" operation to fix her damaged implant. Her boyfriend, Robert Sandberg, a Swedish chef is by her side as she underwent plastic surgery in Los Angeles. According to The Sun reports, Beverly Hills-based Dr Jay Calvert, a plastic surgeon expert, performed the procedure, which involved transferring fat from one part of Khalifa's body to her breast. Mia had earlier tweeted about her injury, writing, "Getting hit by the hockey puck damaged my breast but saved my life!"