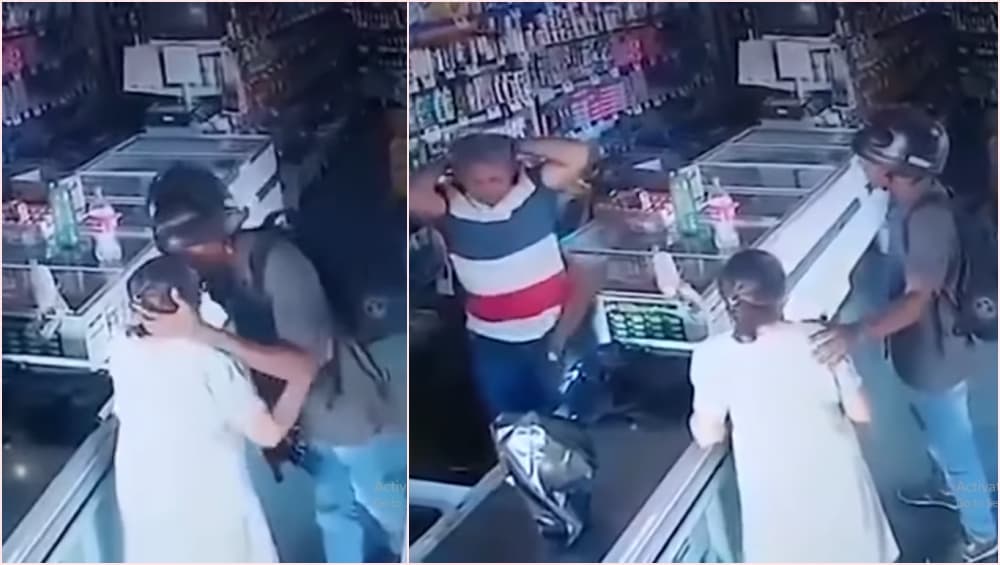 Two armed robbers from Northeast Brazil barged into a pharmacy. But a random kind act of one of the thieves have left the netizens and us speechless. The CCTV installed at the store captured this one of a kind exchange between the burglar and an elderly woman who was a customer at the store. The surveillance camera showed the suspect speaking with the woman while his partner robbed the store employee. Instead of looting her money, the thief kissed her forehead and calmed her down. The video capturing the moment has gone viral on social media. Burglar Gets Caught in CCTV Camera Dancing After Theft. 
According to reports, the woman, visibly terrified, faced the suspect and told him that she wanted him to take her money as well. The store owner, Samuel Almeida said Brazilian outlet G1, as translated by Daily Mail, that the men entered the store and asked his employee to give them all the money. When the elderly customer offered her money, the burglar somewhat calmed her. He kissed her forehead, saying, "no, ma'am, you can be quiet, I don't want your money." He then put the glasses on of his helmet and continued his theft.
Watch the Viral Video:
Media reports further confirmed that the thieves escaped the pharmacy with $240 and other goods. At present, the authorities are looking for the suspects and investigations on the matter is on. But the impromptu moment from the burglary is what has puzzled the viewers. We do not know how to explain. But it was slightly surreal, to say the least.