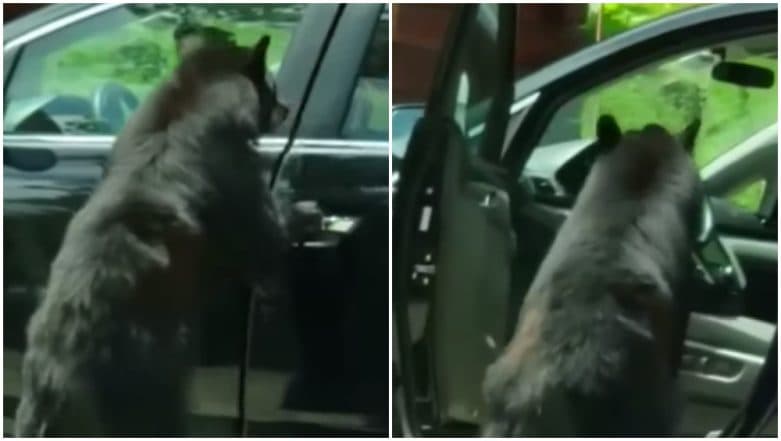 Shocking video of a mama bear easily opening the door of a minivan in Gatlinburg, Tennessee is going viral on social media. The video shows the bear trying to open the front door with the handle. It then proceeds to the back door, stands on its hind legs and jumps onto the driver's side. The animal then glances the van thoroughly and then goes to the back door. FOX 17 News viewer Diana Sosa who saw the bear trying to the open the car's door with its teeth, captured the incident on her camera. She said the mama bear had two cubs with her but they are not in the video. She said, "She just opened the car like a person." Man Throws iPhone Into Bear Enclosure at China Wildlife Park Instead of Apples; Video Goes Viral.
Recently, a polar bear was spotted in the Russian industrial city located in northern Siberia. It had walked hundreds of kilometres from the Arctic region to reach Norilsk. Depletion of natural habitat has been forcing wild animals to stray into human residential areas.
Watch the video below:
In May, a woman in Rhode Island got scared to the core after a bear opened the door of her car. Fortunately, she was unharmed as she pulled the door and fastened it. Brenda McCloskey had shared the incident in a Facebook post following which it went viral. In a similar incident, a Kentucky man regretted leaving the windows of his cars open after he returned to find it filled with bears. There has been an increase in the number of bears approaching human settlement in the recent past. While most of them haven't caused harm to humans, it's scary that they roam out so freely in the open.