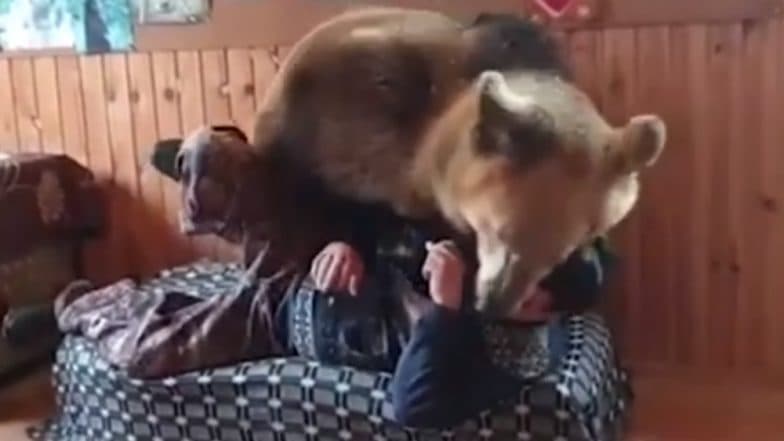 Bears are irresistibly adorable and can melt your heart at a glance. They are some of the most lovable large carnivores, omnivores and sometimes even herbivores in the world, often the subject of childhood tales and treasured as teddy bears. It is because of their fluffy cuteness; they often appear on social media platforms adorning people across with their innocent sights. At recent, a bear, has been filmed in Russia battling with the owner who was lying presumably on its favourite spot on the couch. The Internet is all at smiles, watching the adorable video going viral. Dog Videos Ruled This Week! Watch Top Viral Clips That Touched Millions of Hearts. 
Identified as Stephan, an adult brown bear, lives in Moscow with his owner for over 20 years now. Stephan was reportedly rescued and adopted by his current owners when he was three months old, and ever since then, the cuddly bear has become the favourite and spoiled member of the family. In the video going viral, it is pretty clear that he hates to share his spot and hence battling every hard with his master. South African Diver Was Swallowed Alive By Whale But Miraculously Escaped. 
Watch Video of Adorable Bear Fighting With Owner
This cutest battle is probably the best thing that happened on the internet today. Of course, even the best pets need their favourite spot couch, much like us humans. The above video is one of those bear-ly ever seen moments of bears that will make your week all right.