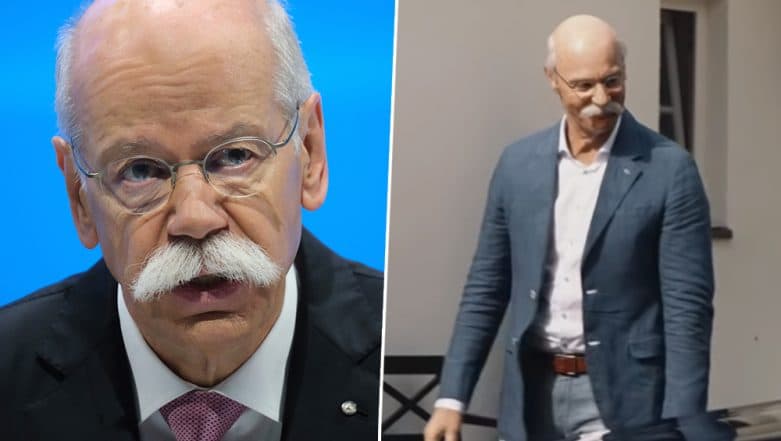 Dieter Zetsche retired from his position as the CEO of Mercedes Benz and also the Chairman of the Board of Management of Daimler AG this week. He was in service for 13 years and to congratulate him on his retirement, their biggest rival company BMW released a video to bid him goodbye from work. They released an emotional video on YouTube which showed Zetsche bidding goodbye to his colleagues. His retirement is no less than the end of an era for the automotive industry. 2019 Mercedes-Benz V-Class MPV Launched in India; Prices Start From Rs 68.40 Lakh.
The video showed Zetsche saying goodbye to his colleagues, clicking pictures with them and heading in his car to his home. Being 'free at last' says the last text with Zetsche going to his garage and drives out in the new BMW i8 Roadster plug-in hybrid sports car. Highlighting Zetsche's importance to the company was a respectful way of bidding goodbye to the CEO of arch-rival by BMW.
Watch Video of BMW's Farewell to Dieter Zetsche, CEO of Mercedes-Benz:
And as soon as the video was shared on BMW's Twitter account, Mercedes-Benz gave a witty reply. While the video suggested for a luxury car for futuristic appeal, Mercedes replied they would rather go for the all-electric car model. BMW Recalls Over 10 Lakh Vehicles Worldwide Over Risk of Fire in Exhaust System.
Watch Mercedes-Benz's reply to Dieter Zetsche's Retirement Video:
Thanks @BMW for the kind suggestion – but we're 100% sure he already decided to #switchtoEQ 😉 https://t.co/M6lYL1dmR2

— Mercedes-Benz (@MercedesBenz) May 22, 2019
Both the companies may be rivals but despite that, they displayed such clever marketing. Dieter Zetsche held the CEO position for 13 years and now in his position, Ola Kallenius takes the chair.