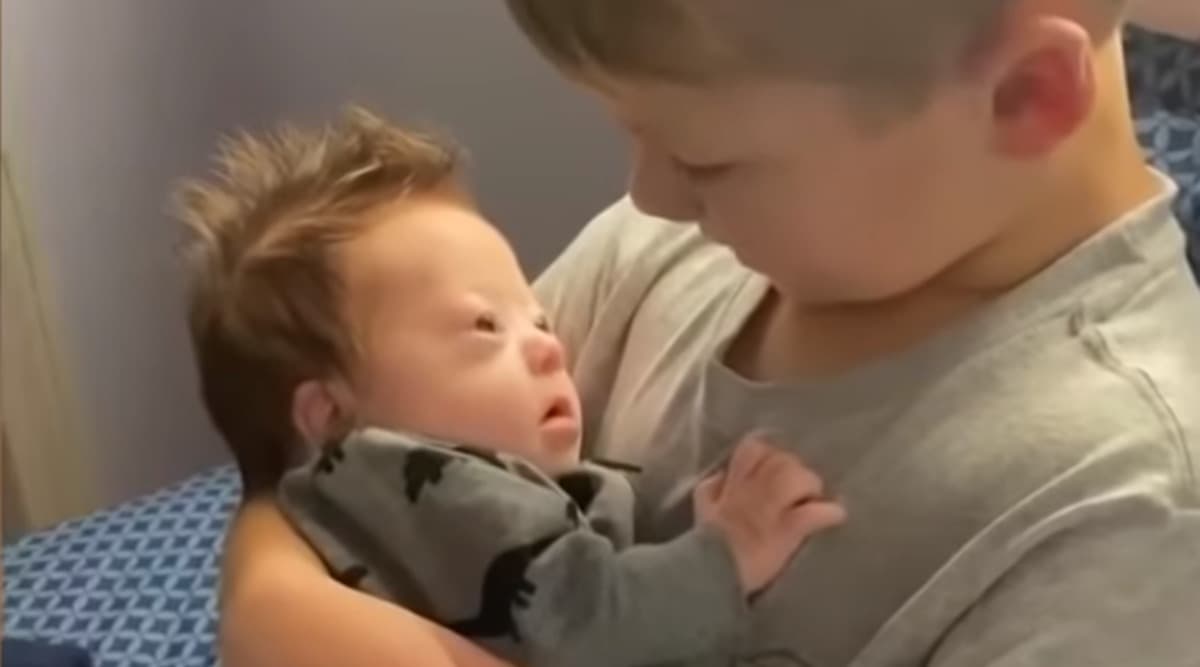 Video of a six-year-old boy singing to his baby brother born with Down Syndrome has gone viral on social media platforms. Nicole Powell recorded the beautiful moment between her children at their home in Cabot, Arkansas. The clip shows Rayce sitting on the bed cradling his baby brother in his arms. Tripp who was born with Down Syndrome can be seen attentively looking at his brother Rayce. He is seen singing 10,000 hours by Dan + Shay and Justin Bieber can be heard playing in the background. This Adorable Video of Baby Girl With Down Syndrome Smiling Will Tug at Your Heartstrings! (Watch Video)
Rayce then begins to sing with him, "I'd spend 10,000 hours and 10,000 more, oh, if that's what it takes to learn that sweetheart of yours. And I might never get there but I'm gonna try. If it's 10,000 hours or the rest of my life I'm gonna love you." He also gently strokes his brother's back and stomach as the video comes to an end. The mother of the children who is a police officer said that the bond between Rayce and Tripp brings a smile on her face. Famous People With Down Syndrome Who Changed The Way World Views The Condition.
Powell posted the video on Facebook with the caption, "This is how Rayce bonds with Tripp. He sings to him all the time. He swear this song is about him and his brother. Love doesn't count chromosomes, or as Rayce says, 'Aren't we all different? #DownSyndrome #NothingDownAboutIt #BrotherlyLove #ProudMomma."
Here is the video:
Tripp spent first one after birth in intensive care and was released on Christmas Eve. The video has been viewed more than 8.3 million times. Ms Powell and her husband JJ was quite overwhelmed by the reaction had poured it. The couple knew about Tripp's condition before he was born. He was born on November 21 via C-section.