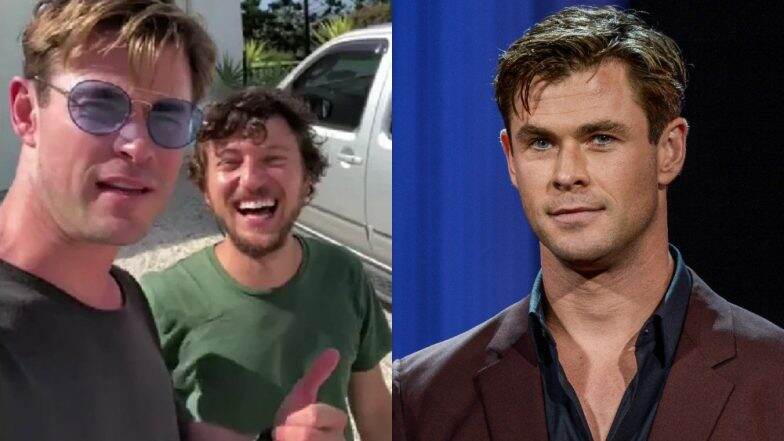 Australian actor Chris Hemsworth surprised a hitchhiker by giving him a helicopter ride to a surfing spot. Chris picked up the man from the side of the road in Brisbane and flew him to Byron Bay! The Thor star was with friend Luke Zocchi in Queensland when they stopped their car over to help a man thumbing a lift. They later flew with him to Byron in New South Wales giving him the biggest surprise of his life.
Sharing the video of their expedition, Chris wrote on Instagram, "Picked up a hitchhiker, wasn't a serial killer which we were stoked about and just happened to be a kick ass musician Scott Hildebrand @scotthilde #WelcomeToAustralia."
The lucky tourist was American musician Scott Hildebrand who had just arrived in Australia from Mexico. As they approached Scott, Hemsworth can be heard saying, "We're going to Byron, we'll give him a lift." Zocchi then adds saying, "Little does he know we're getting a chopper." Chris Hemsworth Is Burning Up By The Sun In A Smouldering Leather Jacket On The Latest GQ Australia Cover - View Inside Pics
Watch the video below:
Scott can be seen exclaiming "No way!" repeatedly in the video on learning that they were taking a helicopter from Brisbane to Byron Bay. They even named him as Scotty Boy. After dropping him, the Avengers star bids him goodbye saying, "Alright Scotty, back to the hitchiking." Talking about the experience, Scott told E! News, "The experience was so cool and unexpected. They're so nice and I couldn't believe it was happening."
He also shared the video on his Instagram page thanking his new friends. The caption reads, "When hitchhiking leads to a helicopter ride with Thor... So grateful for this crazy experience and the opportunity to share my music with so many beautiful people. Thanks guys!@chrishemsworth @zocobodypro."