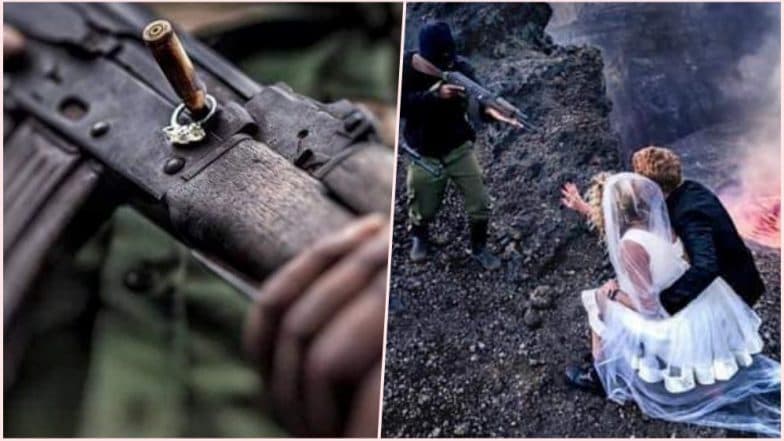 Wedding day comes and goes very quickly, and that is why preparation is the key. Once you nail down your photographer (months in advance), it is time to start thinking about your shoot list. These days, wedding photo shoots have become a major topic because of the accurate emotion they portray, an awe-inspiring backdrop, a perfectly timed moment or capturing the beautiful connection of the couple. It is all important. And with the advent of social media, your photoshoot's idea has to be unique. But you really need to give it hard thinking; otherwise, it might turn worst for you just like this American couple. Their idea of shooting in the setting of Congo Civil War went viral, and netizens are hating it! The photos are only labelled as 'racist' and 'insensitive'. Wedding Albums of Russian Couples with Photoshopped Pictures Are Not Real but Funny. 
Here is what happened. In 2017, American travel photographer John Milton and his wife planned to exchange the vows in the Democratic Republic of the Congo. They went a bit too far with the wedding photo shoot as Milton's wife wanted to make sure that they "didn't have the typical goofy wedding shots." They took photos "atop of an active Congolese volcano with a local tribe while a civil war is brewing." Bridesmaid Fainted the Moment Married Couple Leans to Kiss! Twitterati Calls It the Best Wedding Throwback Ever. 
The wedding actually took place there. The photos this year again surfaced on the internet after a 28-year-old ESL teacher, Cecilia Christin posted them on Facebook. Christin, who is unknown to the couple found their photos and took screenshots from Milton's Instagram account. The viral Facebook post was captioned, "What in the fresh yt hell is this mayo encrusted bullshit? There are literally too many things wrong here." Most Stylist or Most Ridiculous Bride-Groom Entry at a Wedding Reception? Video of Couple Flying and Landing on Bird Cage Goes Viral. 
Here are the pics of couple's Congo Civil War-themed wedding photoshoots.
People online think the photos are troubling on several levels. Social media users have accused the pair of engaging in 'misery tourism'. One Facebook user commented, "Black people are not props or accessories." In one of the photos, a ring is seen sitting upon an assault rifle with the caption, "Blood Diamonds' What a combo! Diamonds and an AK47." Wedding Dresses with Pockets: People Are Crushing on These Comfy Wedding Gowns. 
As the photos were going viral, on October 23, it appeared that Milton had deleted his popular Instagram account. He ran a fairly popular travel page. The wedding photos also appear on a photography blog, Steve Huff Photo in a June 2017 guest post, titled, "Outside of the Box Congo Wedding Shoot with the Leica M10." Milton on his Insta described himself as an "African tribes junkie." Well, the photos are disturbing and no matter, how much the photographer tries to explain it as an 'out of the box creation', people clearly did not appreciate the idea of using the Democratic Republic as props to decorate their wedding photographs.