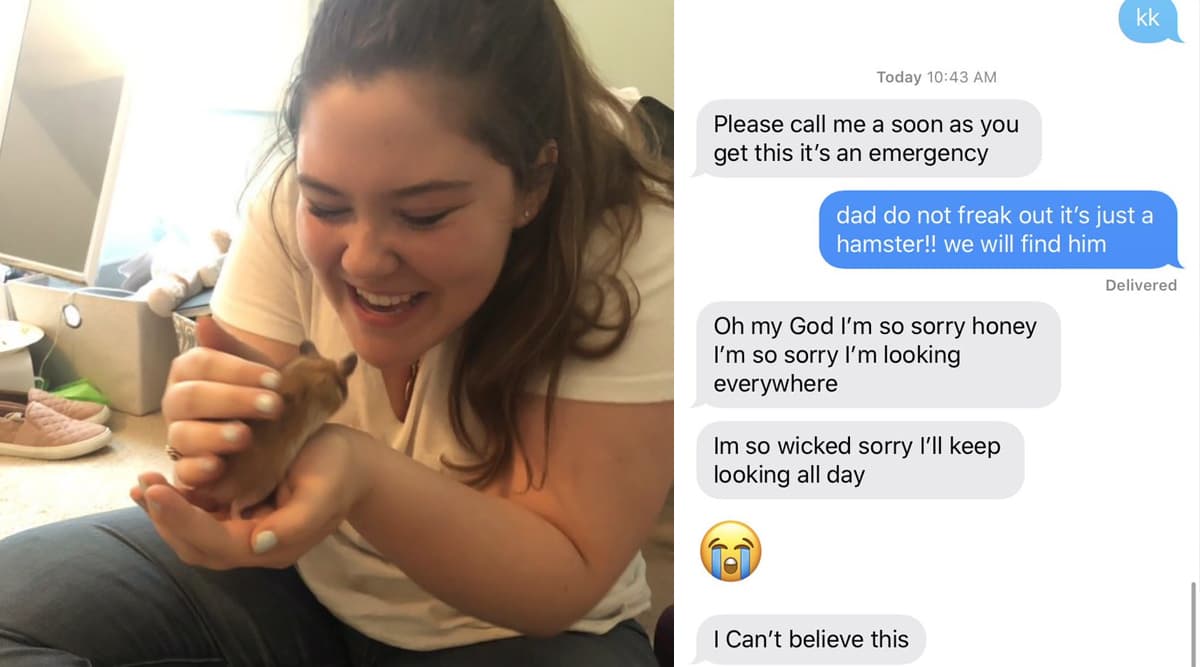 This is undoubtedly one of the most adorable dad-daughter conversations that can only win your heart. A viral tweet shared online revealed how the father freaked out the moment he realised his daughter's beloved hamster was nowhere to be seen. Twitter users loved the father's texts detailing the immediate crisis and how remorseful he was for losing the hamster. Despite the daughter's repeated attempt to calm her dad, he went on creating some heart-touching tactics to get the pet back at home. The viral tweets and pictures of the father, daughter and their adored pet are winning hearts online, with some people sharing similar experiences. Cheering Dad Sets Parenting Goals: Father Mimics Daughter's School Cheerleading Squad at Football Match. 
Twitter user, Steph Veerman, left her hamster in the care of her father, who is identified as Daniel Veerman in reports. Adorably called Chester, the hamster, the pet and Daniel developed a special bond when Steph was away in college. When the little one escaped from his ball, Steph's father freaked out, not only because he thought he had let down his daughter, but also because he became very close to Chester. Daniel texted her daughter, "Please call me as soon as you get this it's an emergency." His entire traumatic experience was well explained in the texts, the screenshots of which were shared by his daughter on the microblogging platform. Dad's Remake of Daughter's NSFW Mirror Selfie Is Epic, Viral Nude Photo Delights the Internet. 
Here's the Tweet:
my dad took over my hamster once i went back to college and ended up getting really attached and today he escaped and this goes to prove how truly pure my father is pic.twitter.com/JmTJl6jFBI

— Steph Veerman (@stephyj725) November 25, 2019
Daniel told the Buzzfeed News that the hamster was not his first choice of pet. But gradually he got attached and even more because he was taking care of Chester for his daughter. Steph tried and assured her father that it was not his fault for the pet's disappearance. But that did not stop Daniel from pulling out all the tactics to find Chester. And did work very well.
The Search Ended Happily When Daniel Caught Chester: 
follow up: He did find him!!! pic.twitter.com/ObHSSmI4UU

— Steph Veerman (@stephyj725) November 26, 2019
This is Chester!
for all asking, this is Chester!! He's the light of my life and not "just a hamster," however, my dad was having a panic attack so i tried to calm him down by saying that!! pic.twitter.com/tcesO2oCxk

— Steph Veerman (@stephyj725) November 26, 2019
How Adorable!
told him he had a lot of people on twitter who loved him so he did his hair and posed for this pic i'm dead i love him so much pic.twitter.com/urR2WMmeDE

— Steph Veerman (@stephyj725) November 27, 2019
People adored Daniel for his reaction and quick search. While a section of Twitter praised the father, others joined in to share similar experiences.
People Are in Love With the Dad:
he was trying to see his footsteps :( he's so adorable please let your dad finds us too

— 🤡 Dania| دانيا 🤡 (@jouni_dania) November 26, 2019
Yes:
Your father is so utterly pure

also "You are a lawyer and he is a hamster" slays me

— Ohm (Unit of Resistance)🆘️ (@HereToResist) November 26, 2019
Dad Goals:
He put flour out the catch foot prints. Just like a dad to be like "you don't have to come home but let us know you're ok 😭"

— Sam, High Priestess of the Feminism. (@SpiffySpiderKat) November 27, 2019
Similar Instance:
My mother in law kept our cats while we lived in Hawaii. She thought one of our cats got out and called 911 to report him missing and have the police help her look lmao. He was upstairs sleeping the whole time😂

— Melissa Ahmed (@melissatahmed) November 26, 2019
How adorable! Parents can be tough at times, but they are for your good. And such instances only prove how much they care for their children. Just like as kids, we try never to let our parents down, as parents, they try never to let us down, with their innocent reactions like this one.