The coronavirus lockdown has seen several reports of animals being spotted in city areas. The animals which are usually in the wild regions or forest covers are seen out on streets in different parts of the world, including India. But not all of the videos and pictures that are being shared online are true. Recently, another such video of a herd of wild boars out in the street is being shared online with various claims all stating it is an effect of lockdown. Some have shared it calling it a clip from Coorg, others state Kolhapur and South Goa, while yet another claim calls the video footage from UP's Sitapur. However, the differing claim points out that it is a fake claim. Let us tell you, the video is not from India at all. It is a two-month-old shot in Albacete, a city in Spain. Viral Video of Humpback Whales Swimming at Bombay High is FAKE, Here's Truth Behind Old Video From Indonesia Taking Internet By Storm.
Video of a sounder of wild boars on the side of the streets, while a car passes through the middle has been shared on Twitter and WhatsApp. The message along with the video claims it is from Coorg, while some others call it wild pigs seen at Kolhapur in Maharashtra. The video is essentially passed along to give an idea of how animals are getting out on the roads during the lockdown. However, the claim is as fake as the deers returning on the Ooty Coimbatore road! The video is actually from Spain. A reverse check on it takes us to the original link.
Watch the Video Here: 
From a friend in Coorg .... a fantasy or a dream ... but it's incredible how wildlife has expressed itself in a few short days without the oppression of man ever present ... pic.twitter.com/79mAqgA9cr

— KHAUBOYS & INDIANS (@rockyandmayur) April 8, 2020
Same Video With Claim of South Goa:
Wild boars roaming freely during daytime on a road passing through forest in South Goa....

This is benifits of corona covid 19 lock down humans in jail @sanctuaries @BittuSahgal @BankiMistry @mumbaimatterz @smart_mumbaikar pic.twitter.com/uJOItXNBOX

— sun (@GM_MTDC) April 9, 2020
The same video has been found on YouTube, with a title stating it is from Uttar Pradesh. However, the video is very much true but not from India at all. The original video is filmed in the Sierra de Enguera mountain range in Spain. The video was captured almost two months ago and went viral with concerns of wild boars being fed to subsequently hunt them.
Watch the Original Video Here:
The timestamp on this video shows it was uploaded on February 1, 2020. So there are no wild boars invading any of the streets in India because of the lockdown. If you come across this video with any change of location, know that it is a fake claim. Do not fall for any kind of fake news and do not pass on without confirming the source.
Fact check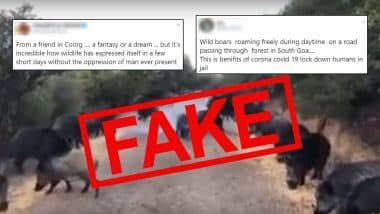 Claim :
Large number of wild boars seen invading the streets in India.
Conclusion :
The claims are fake, it is an old video from Spain.
(The above story first appeared on LatestLY on Apr 09, 2020 06:28 PM IST. For more news and updates on politics, world, sports, entertainment and lifestyle, log on to our website latestly.com).