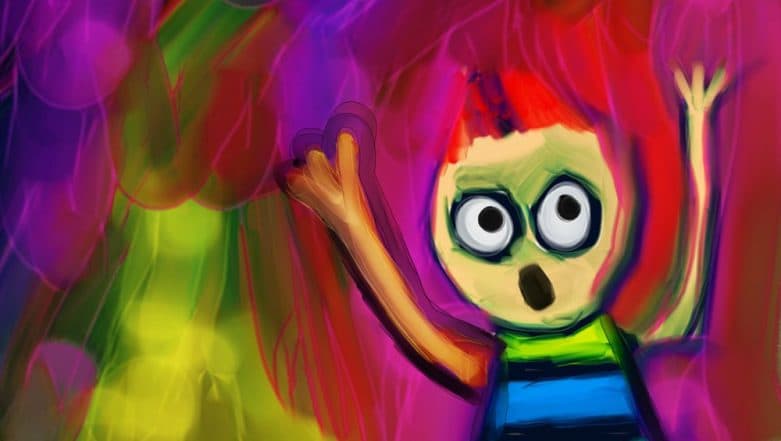 Kids have a different imaginary world altogether. And while most of us laugh it off, some of them can be downright creepy. The creepiest accounts of children are currently making it on social media and let us tell you they are scary and we might have to think what are these kids exposed to. A lot of kids have imaginary friends, some within their toys or dolls or some just in the imagination. American actress Natalie Morales tweeted a picture of a magazine report in which kids were asked to draw and describe their make-believe pals. A three-year old's answer to it was pretty chilling. It was rather ghostly experience!
The kids described his imaginary mum like a supernatural avatar. "This is my imaginary mum Grateful," the toddler wrote. "Her yellow eyelashes mean she can see in the dark - she only comes to see me at night-time. It scares me sometimes but I always want her to come back. She has two babies in her belly. She's 14 but can never have a birthday." While tweeting the picture the actress made a statement saying, "Ruby, you have a ghost. This is straight up terrifying." The post did find supporters agreeing that the imaginary friend was sure creepy!
Take a look at Natalie Morales's tweet about the girl's imaginary friend: 
Ruby, you have a ghost. This is straight up terrifying. pic.twitter.com/DM0y77CWHI

— Natalie Morales (@nataliemorales) May 28, 2018
This tweet has got over 14,000 retweets and close to 60,000 likes on the social media platform. Users began commenting as to how scary this imaginary friend was. And soon people also started posting about what were some of the creepiest things they heard about from the kids.
Check out some of the creepiest things said by the kids:
Someone is stealing this child
Last week my niece said "sometimes I feel the stealers hug me in the night when I'm sleeping, but they always leave before I wake up."

— Wawa SkittleTits (@MrsLauraRoslin) May 28, 2018
Sleepwalking kids are just as terrifying
This reminds me of the time I was sleeping in my little sisters room for the night and I was up on my phone while she slept & all of a sudden she sits up, sleepwalking she says "six six six" and then falls back asleep. I was terrified.

— Lizbeth(: (@lizbethistrash) May 29, 2018
Tall guy with a black coat residing in the house
Last week at my work a 5 y/o girl stopped dead in her tracks looking absolutely terrified and said she saw a "tall man with long black hair and long black coat" in our spare room but he disappeared

— Ms. Chanandler Bong (@caroline_leyla) May 28, 2018
Seeing the dead, are you, child?
My father passed away and a year after that during a car ride my child pretends to talk on the phone.

"Ok, see you then!"

"Who did you talk with?", I ask.

"Grandpa."

"Nice, what did you talk about?"

"He's coming to visit us this night."

😱👻

— Tuomas Venhola (@tvenhola) May 28, 2018
Imaginary friends may not like you at all!
This is almost like the time my little sister stood on my bed in the dead of night to look out the basement window that had been covered for winter and went "it's my friend. He's here. But hide, he doesn't like you."

— Ivory Leifso (@ILeifso) May 28, 2018
A killer friend?
My young brother had an imaginary friend named "Jane", he used to go to the kitchen at night to talk to her, one night I went to see what "they" were talking and he was saying "no Jane, I cant give you a knife to hurt my family" he was 3 years old!

— Nathália Urban (@FairyS) May 28, 2018
While some of these accounts really gave the chill, others had their own take on Ruby's friend. The thread had people even discussing some of their favourite horror scenes. Did you have any imaginary friend you recall? Do let us know your experiences.