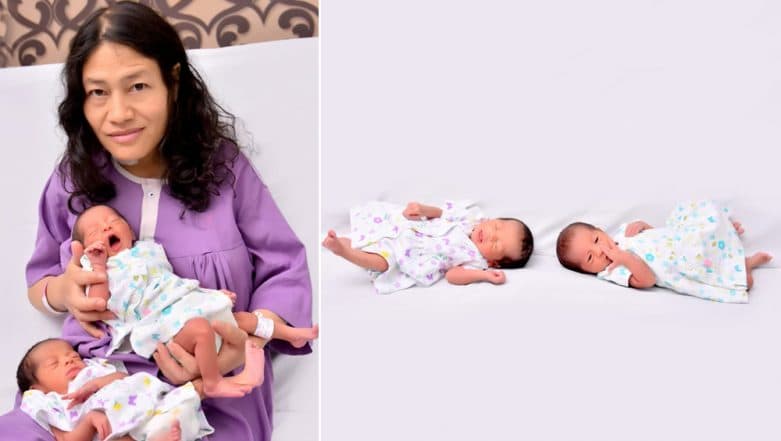 Irom Chanu Sharmila, also known as the 'Iron Lady' or 'Mengoubi' gave birth to two babies on Mother's Day. The political activist delivered her daughters in a private hospital in Bengaluru on Sunday. Both the babies and the mother are doing well. And as congratulatory messages continue to pour in for the 47-year-old, she shared photos of her daughters on social media. The adorable baby girls have been named as Nix Sakhi and Autumn Tara. Irom Sharmila married British national Desmond Anthony Bellarmine Coutinho in 2017. Pictures of the family are being widely shared on social media. Irom Sharmila, Manipur's 'Iron Lady', Gives Birth to Twins on Mother's Day.
Sharmila was undergoing regular consultations at the hospital over the nine months of her pregnancy. Dr Sripada Vinekar told PTI, "It was a C-section (Caesarean) because there were twin babies...Children are very cute and are in good health."  Regional director of the Hospitals, Nitin Nag, in a release said, "Twin-1 was born at 9.21 am with the birth weight of2.16 kg and Twin-2 was born at 9.22 am with a birth weight of 2.14 kg."
Irom Sharmila with her newborn daughters:
Activist Irom Sharmila, who have birth to twin girls on Sunday, shares her babies' pix and they are the cutest.. Welcome to this world, Nix Sakhi and Autumn Tara.. pic.twitter.com/ZJqAzRAViW

— Deepa Balakrishnan (@deepab18) May 14, 2019
The complete family
irom sharmila with twin girls.. pic.twitter.com/RXDBlzTofo

— Mugilan Chandrakumar (@Mugilan__C) May 14, 2019
Irom Sharmila is known for going on a 16-year hunger strike from 2000 to 2016 demanding the withdrawal of the Armed Forces Special Powers Act or AFSPA in Manipur. In 2017, she married her partner Desmond Anthony Bellarmine Coutinho at Kodaikanal in Tamil Nadu. She had contested the assembly election in 2017 from Thoubal constituency against three-time Manipur Chief Minister Okram Ibobi Singh, however, she lost. After the defeat, she had said that she would quit active politics and travel south to "calm" her mind. Earlier this year, when asked if she would contest the national elections, she had said politics wasn't her "cup of tea".