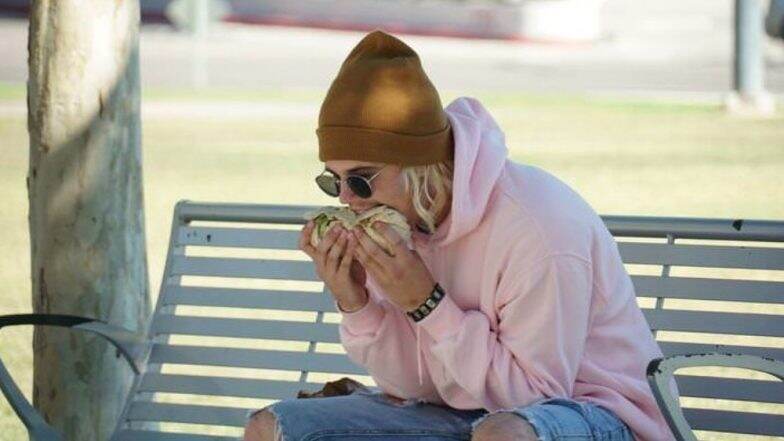 Justin Bieber has managed to spark a big debate and it does not involve his love life or bad behaviour but a mere burrito! Sure, he got married to Hailey Baldwin without a prenup, sent Selena Gomez, his ex-girlfriend to the casualty ward for marrying Hailey, is buying a house in Hollywood Boulevard to stay close to his wife and serenaded his wife on the streets of London. There's a lot of news about his personal life than his public music. But the report of his personal eating habits takes the cake!
Reddit users have started a new debate to address Justin Bieber's latest sin, eating a burrito sideways. In a pink sweatshirt (he wore the same when he landed in Mumbai for his big concert), Justin is seen guzzling down a burrito sideways. It has not gone down well with social media users who have called the method blasphemy. People are flipping out over how he is eating the burrito sideways and diving straight into the middle section of the burrito instead of starting from either corner of the Mexican delight.
The internet has a lot of theories in place for Bieber's this freakish burrito behaviour. Some are assuming it to be thanks to his Canadian background which is the root cause for him eating a burrito like a watermelon. Others are calling out the fact that he's just being a trendsetter, doing things his way so as to influence others into following his lead. People are horrified, perplexed and also humoured by Justin Bieber's burrito-eating habits.
does....justin bieber not know how... burritos work ? pic.twitter.com/WWKP2ttARe

— Ryan Bassil (@ryanbassil) October 25, 2018
People might have a lot to say about Justin's eccentric food-eating ways but clearly, he seems to be enjoying his burrito without spilling it on his clean sweatshirt or soiling his hands. Perhaps that's why he is eating it in a certain way? The Canadian pop star has a lot of things on his plate at the moment that he can't really address the burrito-eating methods gone wrong on priority. He is currently looking for a house with wife Hailey Baldwin in Hollywood and might have chosen Demi Lovato's mansion. No confirmations have been received so far.