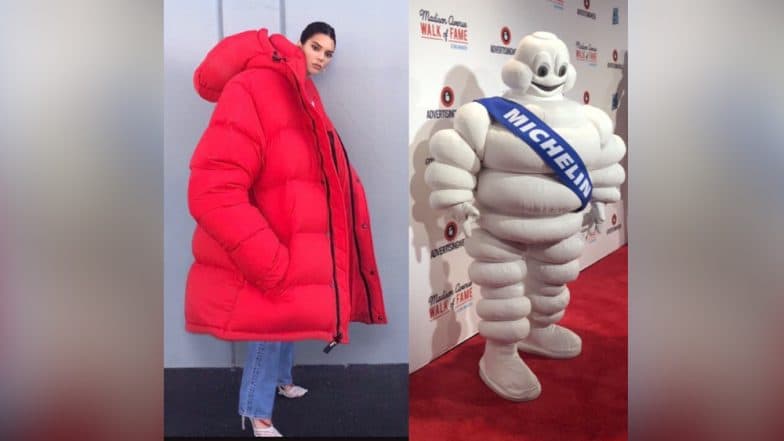 The famous American model and television personality Kendall Nicole Jenner is on the news and on almost on every Twitter handle for all the funny reasons. Like we all know, Kendall Jenner can legit pull off anything that she wears because of her amazing features, however in the latest campaign for Canadian fashion brand, Aritzia, Jenner went a little too far and sported a blatantly big, red puffy jacket. However, it didn't stop there, the picture of Kendal that went viral had her wearing the puffy jacket that looked puffier than the original. Later it was known that the jacket wasn't initially that puffy but an Instagram page digitally enlarged the jacket and made it look obnoxious. Also, the digitally edited picture was also later posted by Vogue Paris, and that is when tonnes of jokes began to do rounds on the internet. Vogue Features Kendall Jenner in 'Afro' Hairstyle; Apologises After Facing Backlash for Cultural Appropriation. 
However, while the whole world is busy churning out jokes around he latest look, it is hard to deny that the 22-year-old beauty is still making this digitally edited humungous jacket look chic, regardless. Kendall wore the puffy jacket with classic blue jeans and a white shirt. Vogue France kick-started the meme by sharing the edited picture with the caption: "Winter is coming." You have to check the picture to believe it.
Winter is coming ! pic.twitter.com/obJe6bO87B

— Vogue.fr (@VogueParis) October 22, 2018
Here's the picture of the Jacket claimed to the original.
Unfortunately the jacket is digitally stretched and this is the original. pic.twitter.com/SMmPQfVk6D

— Carmela & The Beast (@CarmelaMarciano) October 25, 2018
In no time this tweet quickly began to trend on Twitter. Take a look at a few hilarious jokes taking Twitter by storm.
— MacHumphryes (@MacHumphryes) October 24, 2018
Somebody further edited Kendall Jenner's head.
Fixed it! pic.twitter.com/ThTnfVSfvk

— Jorge (@thechairez) October 25, 2018
Some said she was taking fashion tips from her brother-in-law.
Taking fashion tips from her brother in law pic.twitter.com/oJTnkv5UtT

— Jesse CustaaARGHH! 🎃🕸️👻 (@Reverend_Custer) October 25, 2018
Someone even suggested a matching bag.
The matching bag pic.twitter.com/3Q9uogtbaF

— daddy shark (@chelseagamm) October 25, 2018
Even Bay Max was pulled into this!
Em @KendallJenner , Baymax called and he wants his jacket back pic.twitter.com/WroI8exxXp

— Miriam (@Miriam_Kelliher) October 25, 2018
Many also referenced the puffy jacket with a Michelin man. Twitter is still abuzz with these jokes. Which one is your favourite? Let us know in the comments section below.