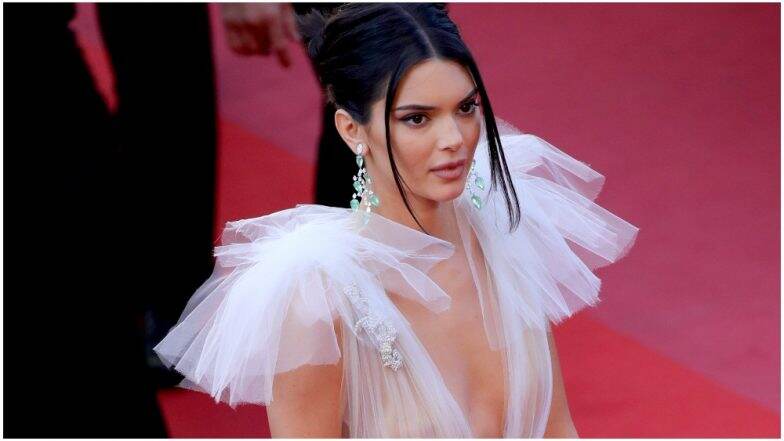 American supermodel and fashion queen Kendall Jenner has once again courted controversy. And this time it is the 'Afro' curls she is sporting on the Vogue magazine's November cover that led to a social media outrage. Vogue was called out for cultural appropriation for featuring a white model with a wig and different skin colour for the photo shoot.
Kendall who has poker straight hair posed for the camera in voluminous frizzy curls, dressed in a floral prairie dress from the Brock Collection. She also sported the same hairdo posing in a purple Altuzarra dress along with black fishnet tights and ankle boots posing with model Imaan Hammam. Internet users lashed out at the magazine for featuring the 22-year-old, while some even stated it to be demeaning for black women. However, some said that the hair wasn't 'Afro' but just curls and teased. Kendall Jenner Frees Her Nipples Yet Again! Fully Topless Photos and Video of Model for Love Magazine Are NSFW.
Here is Vogue's new cover featuring Kendall Jenner:
View this post on Instagram
The photos by Vogue marks the 15th anniversary of the CFDA / Vogue Fashion Fund prize that was created in 2003 to support upcoming designers.
View this post on Instagram
As debate intensified, Vogue in a statement apologised saying that they did not mean to offend anyone. E! News quoted Vogue as saying, "The image is meant to be an update of the romantic Edwardian/Gibson Girl hair which suits the period feel of the Brock Collection, and also the big hair of the '60s and the early '70s, that puffed-out, teased-out look of those eras. We apologize if it came across differently than intended, and we certainly did not mean to offend anyone by it." Kendall Jenner Goes Topless in a Calvin Klein Underwear, But She's No Match for Disha Patani!
Vogue has been accused of cultural appropriation a number times in the past. Kendall had received backlash last year when a Pepsi ad featuring her led to a large social media outrage. It was based on real-life 'Black Lives Matter' march held in the United States.  Eventually, Pepsi pulled the ad and admitted it had 'missed the mark'.