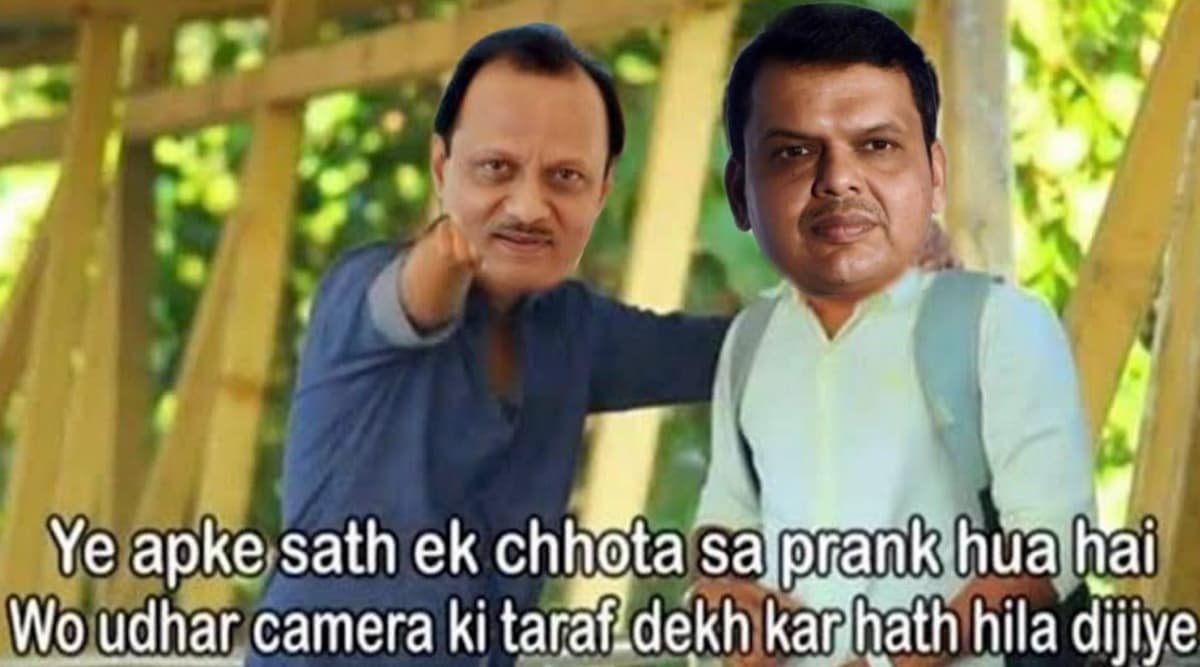 Mumbai, November 26: Moments after BJP leader Devendra Fadnavis and NCP rebel Ajit Pawar resigned as Chief Minister and Deputy Chief Minister respectively in Maharashtra, social media got flooded with memes making fun of the Bharatiya Janata Party (BJP) and the two leaders. Funny memes and jokes on Devendra Fadnavis are widely shared on Facebook, Twitter and WhatsApp after he resigned ahead of the flood test ordered by the Supreme Court. Devendra Fadnavis Says BJP Will Work as Effective Opposition in Maharashtra Assembly, Hits Out at Shiv Sena For Aligning With Congress.
While most memes were directed at Fadnavis, some took a dig at BJP chief Amit Shah who is hailed by BJP supporters as "Chanakya" of the Indian politics. Netizens also made posts on Ajit Pawar who, according to them, has managed to get nine cases related to multi-crore irrigation scam shut. Ajit Pawar was named in the scam and nine cases were shut by the Maharashtra ACP 48 hours after he supported the BJP in forming a government. Maharashtra Power Tussle: NCP, Shiv Sena, Congress Show Unity, Sharad Pawar Says 'Will Bring More Than 162 MLAs During Floor Test'.
Nationalist Congress Party (NCP) chief Sharad Pawar was also a subject of memes. Many Facebook and Twitter users praised "real Chanakya" Sharad Pawar for keeping NCP MLAs together when horse-trading was at its peak.
Funny Memes on Devendra Fadnavis:
Meanwhile @Dev_Fadnavis ji as CM of Maharashtra 😂😂😂#ResignFadnavis#MaharashtraPoliticalDrama #ConstitutionofIndia #ThanksDrAmbedkar pic.twitter.com/OyJM9l1Rn0

— Devashish Jarariya (@jarariya91) November 26, 2019
And the Biggest prank ever in the history made by Mr #AjitPawar...#MaharashtraPoliticalDrama #fadnavisresigns pic.twitter.com/TrN6nLgrOJ

— S I V A 9999 (@sivachinta214) November 26, 2019
This is what happened in maharashtra today. #MahaThriller pic.twitter.com/PW2LtPg2C6

— Mask (@Mr_LoLwa) November 26, 2019
Memes on Ajit Pawar:
Scenes right now #MaharashtraPoliticalDrama pic.twitter.com/IR92KMSCCg

— Sagar (@sagarcasm) November 26, 2019
See the perfect chanakyan. gets clean chit in 70k crore scam and jumb to NCP😂#MaharashtraPoliticalDrama #MahaThriller pic.twitter.com/SikzeEYAsh

— #കഋപ്പൻ (@SabiMugu) November 26, 2019
#MaharashtraPoliticalDrama Ajit Pawar to BJP ,😀😀 pic.twitter.com/l8oBZsHlOM

— Abdul Qadir 🇮🇳 (@aqadir97) November 26, 2019
Memes on Sharad Pawar:
Every body a gangster untill real gangster arrives#MaharashtraPoliticalDrama pic.twitter.com/qhxutoVEf7

— dhiraj (@Nooooobest) November 26, 2019
everyone one is chanakya until the real chanakya arrives😁#fadnavisresigns#AjitPawar#MaharashtraPoliticalDrama pic.twitter.com/bhDpJnOpud

— शुभम ❤️🇮🇳Shubham (@nastik_Shubham) November 26, 2019
Gonna tell my kids he is Christopher Nolan#MahaThriller pic.twitter.com/9S3DYoMGiS

— Optimus Prime (@0mkar_7) November 26, 2019
In a stunning turn of events, Fadnavis on November 23 returned as chief minister propped up by Ajit Pawar, who was made his deputy, just hours after the new alliance of Shiv Sena, the NCP and the Congress reached a consensus that Sena chief Uddhav Thackeray will be their chief ministerial candidate. the Sena-NCP-Congress moved the Supreme Court for an urgent hearing which was granted and the matter posted for Monday. After the hearing on Monday, today the apex court ordered an assembly floor test on November 27, with open voting and live telecast.