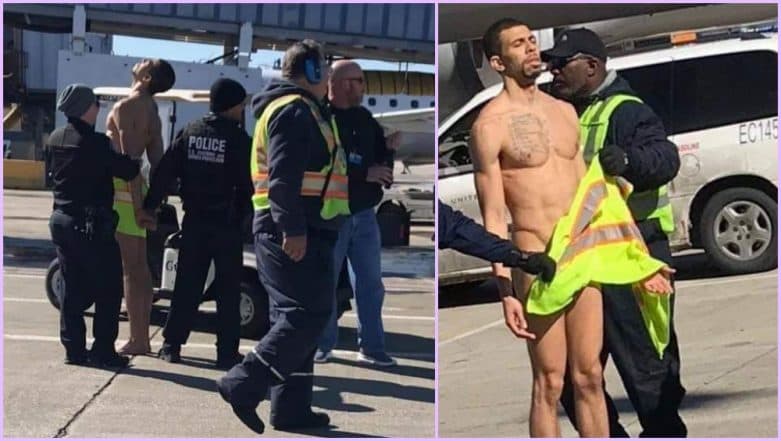 Is it a new trend to fly naked? As astounding as it might sound, passengers stripping down naked in airports is not new. Days after a Russian man was captured naked at the Moscow Domodedovo Airport before boarding a flight to Crimea, another similar incident is making the headlines. A male passenger, wearing nothing, but his birthday suit was caught on camera walking around on the tarmac at Chicago's O'Hare International Airport on March 26, 2019. The video submitted to the ORD Airport Inside shows the unidentified man strolling naked and the short clip is now going viral, with netizens speculating if this is a new way to fly. Nearly Naked Man With a Knife Sticking Out of His Back Walks out of Hospital For a Smoke. 
According to ORD Airport Insider, the man attempted to board a departing flight and was detained at Gate C10 at O'Hare's Terminal 1. Besides, multiple witnesses also reported that the man walked off of a Delta Air Lines flight at Terminal 2.
Watch Video of Naked Passenger Walking Onto Tarmac
Earlier today, a naked male passenger was detained at Gate C10 at Chicago - O'Hare's Terminal 1 walking around on the ramp. (Not my video, submitted by a follower who'd rather remain anonymous) #ORDscanner #ORDairportops pic.twitter.com/fhVP8KhZJR

— ORD Airport Insider (@ORDInsider) March 26, 2019
In the photo shared by ORD Airport Insider, the man appeared to have been given a safety vest to wear around his waist to cover himself up. However, it is unclear how the man got onto the tarmac or how he got naked. Drunk Wales Woman Tries to Twerk on a Police Officer. 
View His Pic
Multiple witnesses say he walked off a Delta flight at Terminal 2, but that hasn't been confirmed. He was quickly apprehended by airport authorities. #ORDairportops #ORDscanner pic.twitter.com/wIKVlsLZtk

— ORD Airport Insider (@ORDInsider) March 26, 2019
As mentioned above, travellers ditching their clothes is not a new phenomenon. Earlier in 2019, an Air India flight from Dubai to Lucknow, India was everywhere on the headlines after a man stripped down and began to walk the aisle in protest as he thought the plane was landing in Pakistan. Again, in 2018, a man was undertaken by passengers and locked in the bathroom after he got naked running down the aisle of an Alaska Airlines flight.