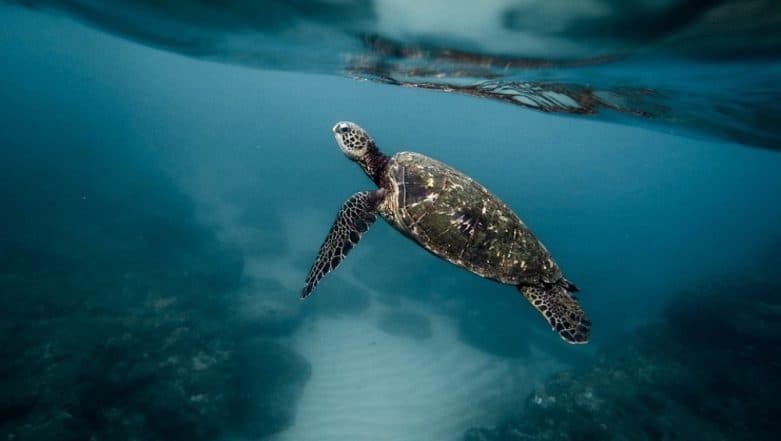 One of the world's rarest turtles, a Yangtze giant softshell died in a Chinese zoo. With the death, only three known members of the species are left. The female turtle (Rafetus swinhoei) which was over 90 years old died in Suzhou Zoo, Southern China on Saturday. Experts had tried to artificially inseminate the creature for a fifth time before she died. The species has suffered from many years of hunting, overfishing and the destruction of its habitat.
The last attempt was performed using semen from the Suzhou Zoo male, which is estimated to be more than 100 years old. It was done 24 hours before she died on Saturday afternoon. The male tortoise lives in the Chinese zoo, while two others live in the forests of Vietnam. They said the operation had caused no complications and she had been fine after the procedure, but her deteriorated the next day. Endangered Sea Turtle Returns to Lay Eggs on Maldives Beach, Finds Maafaru Runway Instead (View Heartbreaking Picture)
Here are pictures of the tortoise that died:
#WWF I am sorry to tell you, yesterday, the last female Rafetus swinhoei was dead in Suchow Zoo, China. pic.twitter.com/rOKNCnVzG9

— 北国流冰NorthState (@okboy2016) April 14, 2019
The zoo had unsuccessfully tried the pair to mate multiple times in the past.
È morta in Cina una delle quattro tartarughe dal guscio molle rimaste in vita: Una delle tartarughe più rare al mondo, una tartaruga gigante dal guscio molle dello Yangtze (Rafetus swinhoei, 斑 鱉), è morta in Cina, lasciandone solo tre rimanenti in… https://t.co/vh5qYSnRyW pic.twitter.com/Ct9kfaNQuC

— TheExcellence (@EXCELLITALY) April 15, 2019
The zoo authorities will be conducting an autopsy to determine the exact cause of the animal's death. The turtle's ovarian tissue was collected for future research purposes. In 2015, scientists from the Turtle Survival Alliance (TSA), San Diego Zoo Global, and Wildlife Conservation Society's (WCS) Bronx Zoo, had attempted artificial insemination to breed the rare turtle, but couldn't succeed. Britain's Oldest Goldfish George Dies at 44.
The female turtle was brought to Suzhou Zoo from Changsha Ecological Zoo in 2008 to be paired with the male as part of a captive breeding program to recover the species. While the female turtles laid eggs, they were infertile. Rafetus swinhoei is listed at the top of the IUCN's Red List of Threatened Species, as critically endangered. Yangtze giant softshell turtle is the most critically endangered turtle in the world.