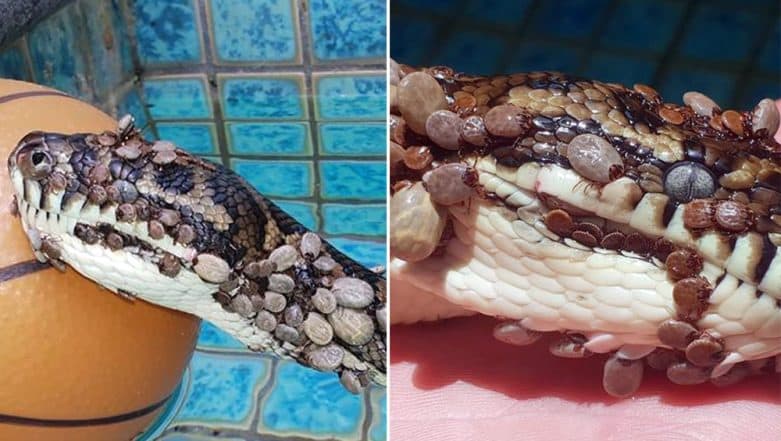 What's worse than finding a deadly snake in a swimming pool? To find a snake that has been severely affected by ticks! An Australian snake rescuer was called in to rescue a python from a swimming pool in the Gold Coast in Queensland. On pulling out the snake, the handler said it was trying to get rid of the ticks that were stuck on its body. The python was taken to a wildlife clinic where the vets spent hours trying to remove the ticks from its body. More than 500 ticks were removed and the snake is currently recovering. This is the first time, the slithering reptile has been found with such a severe case of ticks. Alligator In Swimming Pool! Video of 11-foot Reptile Emerging From Florida Pool Goes Viral.
Tony Harrison, a professional snake catcher live-streamed the rescue of his Facebook page. "He's got hundreds of ticks on him. That's why he's in the water; he's trying to drown them," he said. The python has been named as Nike and is currently recovering at the Currumbin Wildlife Hospital. A total of 511 ticks were removed from its body. The entire face of the reptile was swollen and his face was almost entirely covered. He described removing the ticks as "holding a bag of marbles that were moving under my hands". Australian Woman Finds 4-Metre-Long Python Next to Bed Apparently Wanting to Eat Her! Rescues Herself, Watch Shocking Video.
Look at Pictures of Python Affected by More Than 500 Ticks
Although these were reptile ticks, finding so many of the surface of the snake can mean something is wrong with the reptile. Stephen Barker, a professor of parasitology at the University of Queensland was quoted to ABC, "We can't help but wonder if the snake is already sick or old … they have lower immune responses to parasites, so you do tend to find a lot of ticks on sick animals."