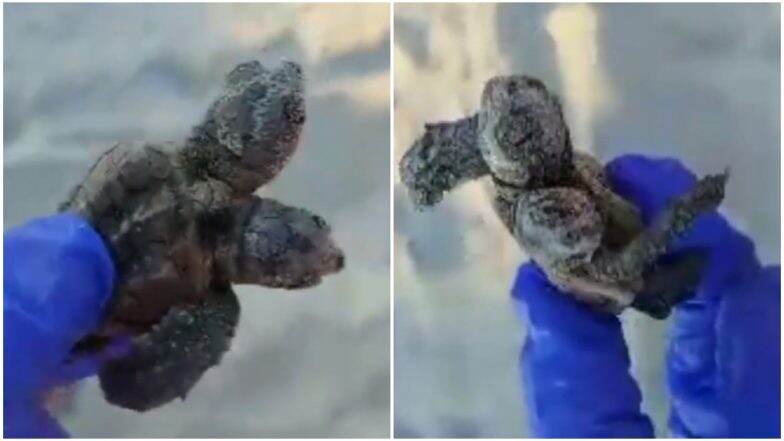 A rare mutated two-headed turtle has been found on an island in the United States. The turtle was found on Hilton Head Island in South Carolina by volunteers. Pictures of the turtle which is being shared widely on social media show the turtle trying to paddle while a rescuer holds it in the hand. The creature was found on the shores of Hilton Head located in South Carolina. While it appears unnatural, experts are of the opinion that it is not a matter of worry as the turtle appears to be healthy. Turtle on Wheels! Box Turtle Gets Legos Wheelchair After Losing Hind Legs (Watch Video)
Talking about the recent finding, Amber Kuehn, manager of Sea Turtle Patrol Hilton Head Island, said such animals are spotted very rarely. Amber was quoted as saying, "It's rare but it's nothing to be concerned about. Some people are thinking radiation in the water, but it's not like that, it just happens in nature periodically. In South Carolina, after we've noticed that a nest has hatched we will leave it for three days to make sure that everything comes out naturally that would come out naturally."
She added, "In this situation, there was a hatchling trapped in there – it would not have got out naturally – and it was this one with the two heads. There's a bump that goes down the centre of turtle's shells and there are two of them here, so they probably each have their own spine. They walked it past the surf and put it in the water and, of course, with two different flippers it didn't swim well at all." Endangered Sea Turtle Returns to Lay Eggs on Maldives Beach, Finds Maafaru Runway Instead (View Heartbreaking Picture)
Watch The Video Below:
However, the turtle's chances of survival are very less. The gender of the turtle is also not known while both appear to be of the same sex as they shared an egg. She said that it is one of the strangest mutations she came across in her 21 years of her work with sea turtles. Amber adds, "Sometimes it's condition-related, like we've had hatchlings come out that are completely white and that's a thermal injury, but in this case, it's just a genetic mutation."