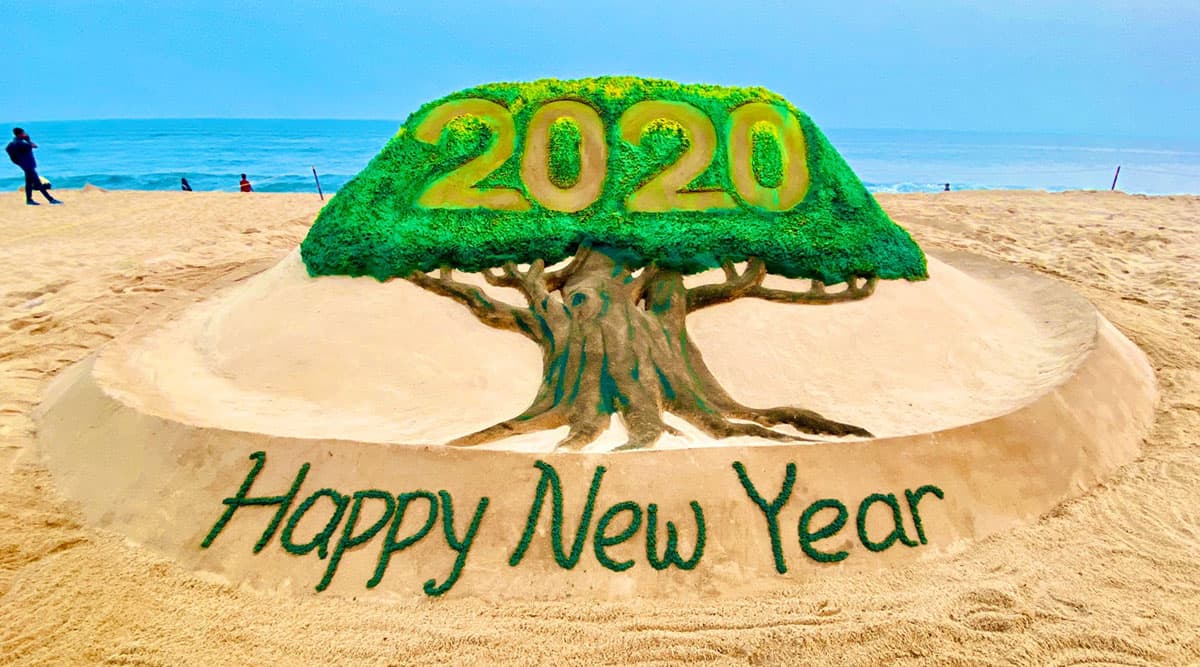 It's the New Year 2020 and social media is full of Happy New Year wishes and images since the stroke of midnight. People are sharing wonderful greetings and messages to send everyone and sand artist Sudarsan Pattnaik has also joined along to wish with his beautiful sand art. He has made a sand art on Odisha's Puri beach, which shows a tree with 2020 engraved on it. He uploaded a picture of his sand art for New Years to extend greetings of the day. Sudarsan Pattnaik Becomes First Indian to Win Italian Golden Sand Art Award 2019 (View Pic).
Sudarsan Pattnaik is known for making beautiful sand arts on Puri beach. He makes these sand arts for most festivals along with celebrating achievements, birthdays of famous personalities, etc. On New Year 2020, he initially put up a simple picture with just 2020 engraved on the sand and waves in the background. Later, he posted a picture of the sand art which shows a nice tree carved out in the sand. Chandrayaan 2 Enters Moon's Orbit, Sudarsan Pattnaik Congratulates ISRO With a Sand Art (See Picture).
Check Sudarsan Pattnaik's Sand Art for Happy New Year 2020:
#HappyNewYear My SandArt at puri beach in Odisha.#Happy2020 pic.twitter.com/VKJWikMLVx

— Sudarsan Pattnaik (@sudarsansand) January 1, 2020
People also replied and extended their wishes of the new year to him. Many people appreciated the beautiful work he presents every few days. The renowned sand artist made a beautiful sand art for Christmas, even attempting a world record with the same. He made a 2500-square ft sand art of 3D Santa Claus on Odisha's Puri beach. Along with Pattnaik's sand art, he also gave an important message of "Go Green."