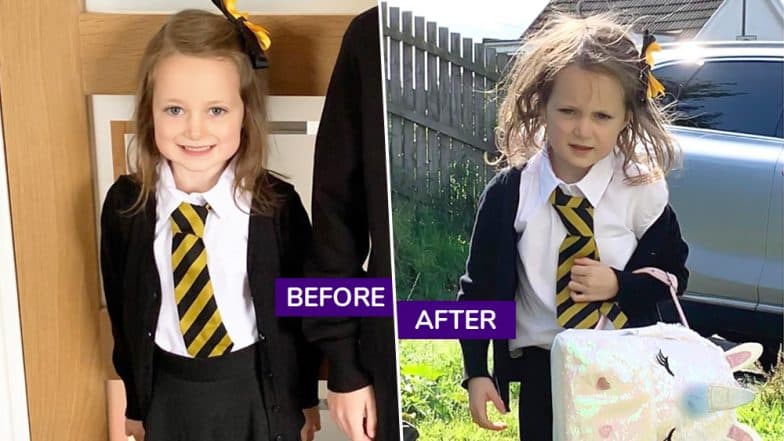 Before and after school pictures of a five-year-old girl's first day at school has left the internet in splits. Earlier this week, Jillian Falconer picked up her daughter Lucy from school in East Renfrewshire, Scotland and couldn't believe the state in which she looked. Following which the mother took to Facebook sharing hilarious before and after pictures of the school making social media ROFL. People commented on the pictures saying that they were all like Lucy in their childhood. Pet Dog Hilariously Photobombs Couple's Engagement Photoshoot, Adorable Pictures Go Viral.
The photo taken in the morning before she was sent to school shows a neatly dressed Lucy. Her shirt can be tucked in properly, tie in place and a bow nicely securing her hair. While the post-school photo shows her in a terribly funny state. Her bow can be seen coming out loose with her hair flying all over the place. One sleeve of her blazer can be seen coming down her hand as she holds her backpack on her arm like a handbag. The Facebook post generated a lot of laughs on social media as it continues to go viral. Unique Wedding Photoshoot! Malaysian Couple's Roadside Pictures After Car Breaks Down Go Viral (View Pics)
Here is the Facebook Post:
Talking about the incident, Jillian told Barrhead News, "Lucie is just like any typical child. When I went to pick her up from school and saw how she looked, I was mortified. I asked her what she had been doing at school and she said 'Oh nothing, I just played with my friends.'"