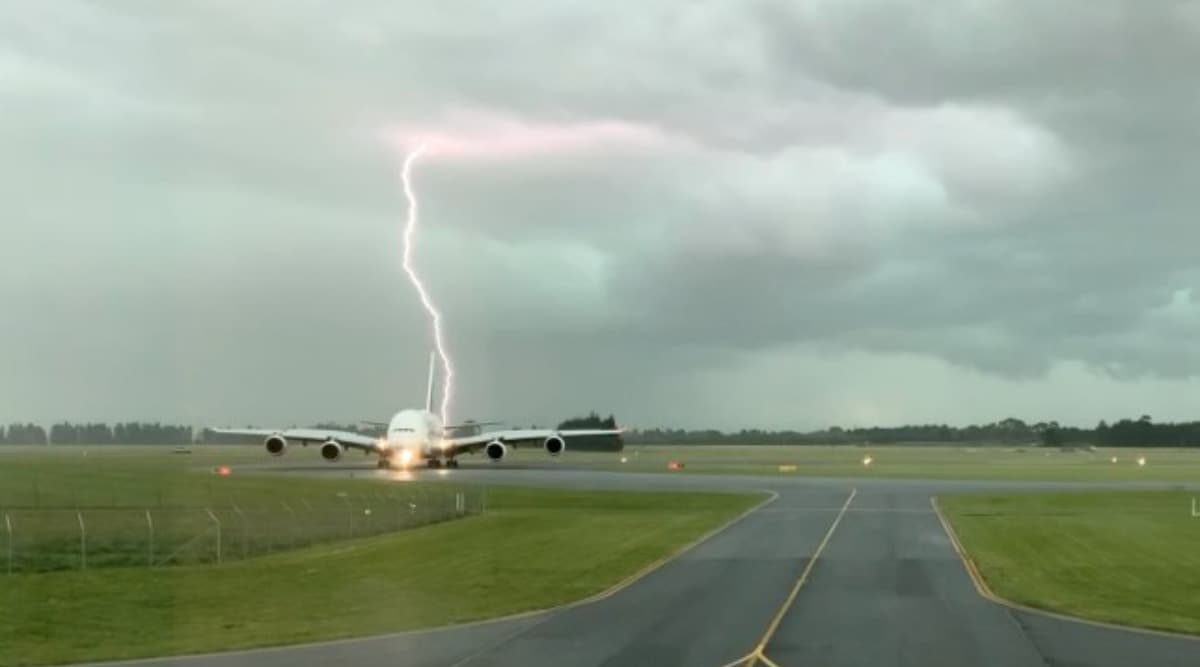 A bolt of lightning almost hit a passenger plane as it was about to land in New Zealand. An airport worker captured the moment when the lightning narrowly missed the plane saving from a catastrophe. The photo of the plane narrowly missing the lightning has gone viral on social media platforms. On the fateful day, Canterbury had been witnessing hail storm and lightning. More than 1500 lightning strikes hit the South Island during a six-hour storm coupled with devastating hailstones. Seems people in the plane were quite lucky to escape such a deadly bolt of lightning. Umbrella Saves South Carolina Man From Deadly Bolt Of Lightning, Terrifying Video Goes Viral.
Daniel Currie captured the bolt which was close behind an Emirates A380 aircraft as it touched down. He was quoted as saying, "It quite often stops the odd meeting at work as it comes by but today with the storm and the timing of the lightning it made for an awesome show." Upward Lightning on Guatemala Mountain Caught on Camera.
It comes after a tornado hit Christchurch on Monday, leaving two people injured. Roofs of buildings were flown away leaving heaps of debris in some localities. On Wednesday, large golf ball-sized hailstones rained down resulting in broken windows, damaged roofs and dented vehicles in Timaru, South Canterbury. As lightning continued to strike the region, passengers at the city's airport were warned to not leave the terminal on Wednesday.
Plane Almost Strucky by Bolt of Lightning:
Fire and Emergency New Zealand (Fenz) Mid-South Canterbury area commander Steven Greenyer said that they had received 30 calls between noon and 2:40 pm during the lightning. Autoworld Timaru director Chris Churchward said 100 cars were damaged at his yard. Most of the vehicles had dents, broken windscreens and wing mirrors.' The city was covered in dark storm clouds other than thunder and lightning. Christchurch did not witness hailstorms but North Canterbury had a tough time dealing with it.