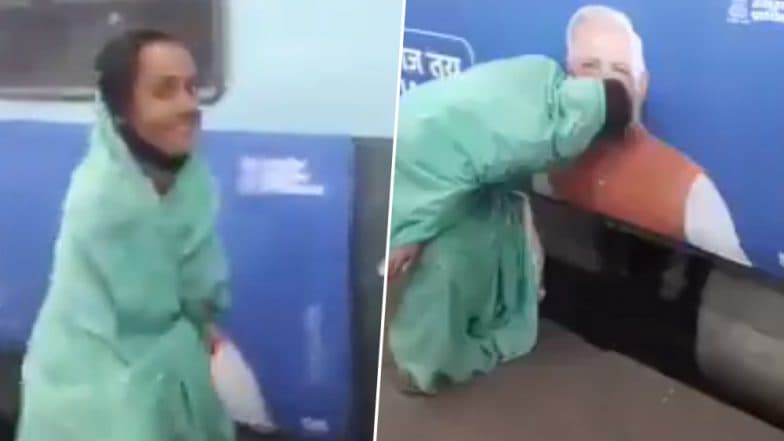 You like Narendra Modi, or you hate him, you can't deny that he has been one of the most popular PMs we've had. Not only that, interestingly, PM Modi has had lovers and haters of extremes with actually, very few people having a neutral opinion about him. Be it his personality, his speeches or whatever he does, and he has fans in the country. You are free to call them 'Bhakts,' 'Modi followers' or 'NamoGang,' they exist and keep giving examples now and then, the most recent and probably the craziest one as well is this video of a woman kissing Narendra Modi's picture that is going viral on social media. We recently saw sarees with images of Prime Minister Narendra Modi become a big hit among women and were priced upto almost Rs 1500, especially among women in Jharkhand. Sarees with Pics of Narendra Modi Priced at Rs 1500, a Big Hit Among Women in Jharkhand. 
However, in this video, this woman is seeing walk by a train that has Narendra Modi's photo and she suddenly is seen kissing the picture of Narendra Modi on the lips. The video of a woman kissing Narendra Modi's picture on a train is here:
ऐसा भी होता है!! 🤔 pic.twitter.com/C1ZU2lEXR7

— Akhilesh Sharma (@akhileshsharma1) February 24, 2019
Take a look at the reactions on the Modi kissing video:
जलवे हैं मोदी जी के । 😂😂

— Hindvision (@vj_gupta05) February 24, 2019
Crazy
Aisi diwangi dekhi nahi kabhi😀😍😍

— AVANTIKA CHANDRA (@Avantika_23) February 24, 2019
Taking a dig at Congress?
Ab congress wale bolenge ki modi Ji ne aurat ko molest Kiya😁

— Onkar Dixit (@omidixitdotcom) February 24, 2019
Achhe din...
Modi ji aur kitne ache din chahiye..

— PULKIT GOEL (@pulkitgoel11) February 24, 2019
Kuch bhi hosakta hai
Modiji hai kuch v ho sakta hai

— Ajit Biswal (@ajitbisswal) February 24, 2019
Out of respect...
This is outta PURE RESPECT..

LOVE U मोदीजी 🙏🏻

— .................... (@OnlyForMySelfff) February 24, 2019
Narendra Modi's parody account's reaction
Bharat ki beti ka Pyar 👌#PMKisan #MannKiBaat

— Narendra Modi LIVE (@PMOIndia_LIVE) February 24, 2019
After the Indian Air Force avenged the cowardly Pulwama attack made by a suicide bomber from Jaish-e-Mohammad terrorist group, praises for Narendra Modi are not stopping after, of course, the Indian Air Force.