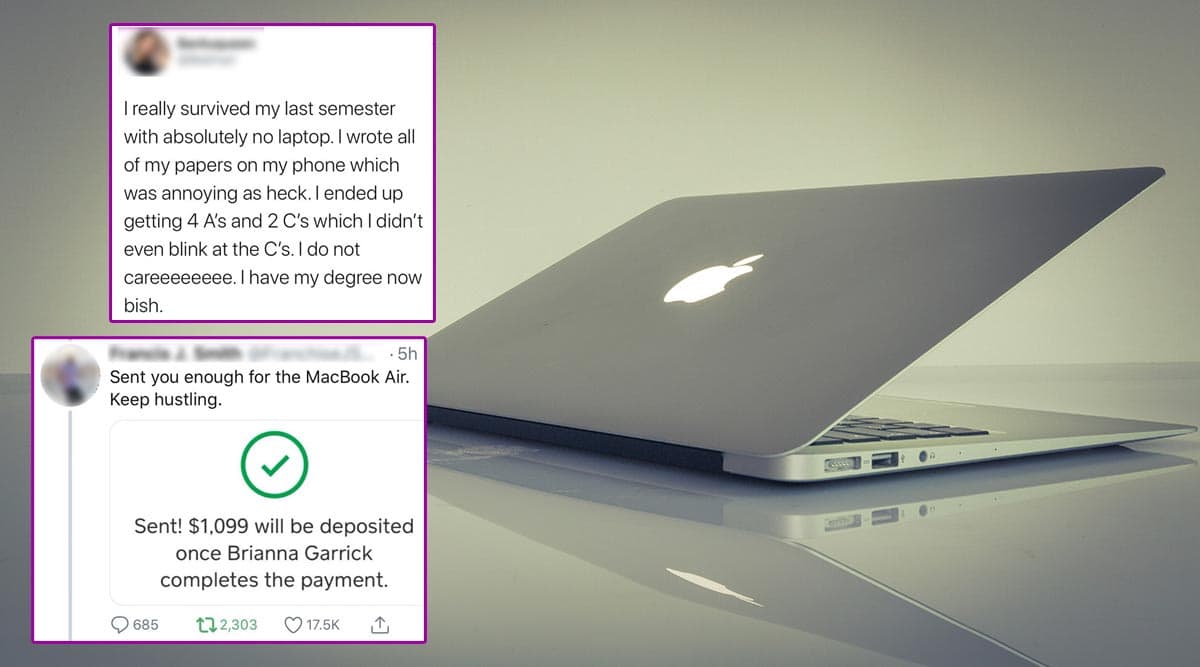 Social media is a happy place. Trust us when we say it. At least those tweets which made people smile. Twitterati just got another reason to rejoice. A social media user just bought a stranger a MacBook Air after finding out that she wrote her school essays on her phone. Yes, you read that, right! How often do you meet such people in a place like social media? Very rare! But it is worth every emotion. Amid major distressing news making international headlines these days, there lies this tweet which is giving netizens a significant reason to smile. South African Couple Got Engaged at KFC! Twitterati Unites to Find Them and Pay for Their Wedding. 
Twitter user Bantuqueen (@Bekhari) wrote how she struggled to finish her last semester of college without a laptop. She carried on detailing that she wrote her school essays on her phone, edit and printed them out. "I really survived my last semester with absolutely no laptop. I wrote all of my papers on my phone which was annoying as heck. I ended up getting 4 A's and 2 C's which I didn't even blink at the C's. I do not careeeeeeee. I have my degree now bish," reads her tweet. My Score Card Trends on Twitter: People Share Their Results to Give a Very Important Message That Marks Don't Always Matter. 
Twitter user @FranchiseJSmith asked her if she still needed a computer. When she said yes, Smith sent her $1,099, writing that the amount is enough to buy a MacBook Air.
Here's the Tweet:
The most beautiful thing I've seen on twitter. Much respect @FranchiseJSmith pic.twitter.com/KQsJPTfHsS

— zellie (@zellieimani) January 4, 2020
This Is Huge!
Sent you enough for the MacBook Air. Keep hustling. pic.twitter.com/1Vght0dTMr

— Francis J. Smith (@FranchiseJSmith) January 4, 2020
People on Twitter got emotional over the tweet. This was honestly the most beautiful thing we have recently come across on social media. Netizens took to Twitter, sharing their thoughts on the generous move. Dad Shares Dead Son's Essay Titled 'You Are Going to Die, So Be Happy' and Twitter Is Emotional. 
Netizens Are Happy!
This is truly beautiful. Congratulations to the graduate. I admire her determination! Thank you @FranchiseJSmith for truly blessing her! Your kindness and generosity are admirable.

— Deanna 🥼🔬🧪🔭👩🏿‍🔬👩🏿‍🏫 (@Chem_Warrior) January 4, 2020
Faith In Humanity Restored!
My faith in humanity is restored yet again. Blessings

— Kingsborough341 (@Kingsborough341) January 4, 2020
Best Thing On Twitter:
Agreed! This is truly beautiful & heartwarming. So refreshing to see thoughtful & intentional gestures in this twitter verse. Much respect to you @FranchiseJSmith for this. May we all be inspired to bless at least one student this year 💕💕 #eachonebuildone #payitforward

— The UW Postdoc Diversity Alliance (@UWPostdocDA) January 4, 2020
Twitter user @Bekhari also responded to the gift, explaining what it meant to her. She wrote how overwhelmed she is. The student also said that she was a college dropout for three years due to lack of financial aid and that she recently joined to finish up her senior year. "The blessings are pouring!" she wrote in her tweet. She also posted pictures of her at the Apple store saying that she would have her laptop very soon.