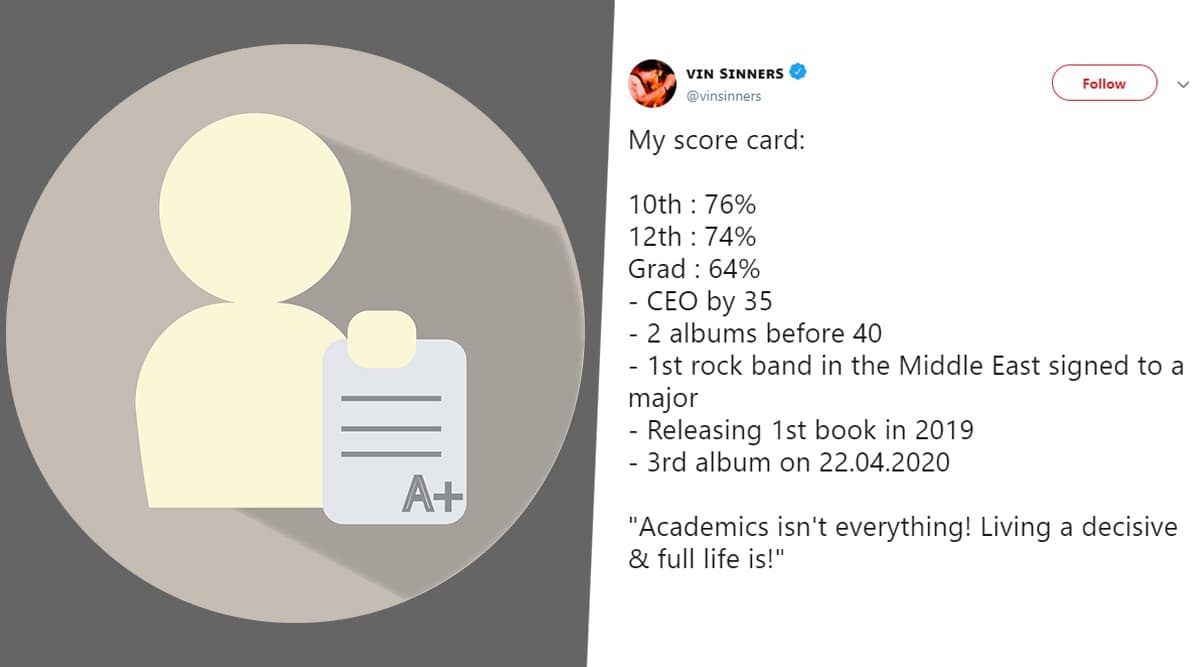 One of the unfortunate traits of bringing up a child is the over-emphasis on academic scores. Education definitely plays a very important role in developing a person's future but that it is what a person has learnt and applied that matters than the marks on the result. A nice trend emphasising that marks are not the only way to reach success is seen on Twitter. Users are sharing the scorecards of their academics, some of them giving a timeline of their success along with. Type 'Seduce Me' Autocomplete Trend Takes On Twitter, Netizens Come Up With Funny Memes and Strange Replies!
It does not take long for any tweet to emerge into a trend. So when a Twitter user named @SharmaG_1 shared his scorecard of the 10th, 12th and graduation, others started sharing theirs too. Some of the users are still completing their graduation and some others drove the point that academic scores are not always everything and a rule book to success. 
Check The Trend of Sharing Score Card on Twitter:
My score card:

10th : 86%

12th : 81%

Grad : 78%

Yours?

— शर्मा जी (शर्म नहीं है जी) (@SharmaG_1) November 2, 2019
Passed Consistently
My score card:

10th : Passed

12th : Passed

Grad : Passed

See the consistency

— Ravindra Singh Tomar (@tomarhcm) November 2, 2019
Please Don't Ask
Mat pooch bhai jyada ...emotional hojaunga !! pic.twitter.com/MJsG4Ivx8B

— shubham sharma (@mai_shubh_hu) November 2, 2019
Oops
Tere 10 ka score

Mere 10,12 aur grad ke mila ke hote h 😭😭😭😭

— $h₹i....فراشة🦋شري (@Shri_7474) November 2, 2019
How Many Can Relate?
10th: 1st bencher

12th: last bencher

Grad: class ke bahar

No further explanation is needed.

— Dharmesh. (@_TheNalayakBeta) November 2, 2019
Best Answer
My score card:

10th : 76%

12th : 74%

Grad : 64%

- CEO by 35

- 2 albums before 40

- 1st rock band in the Middle East signed to a major

- Releasing 1st book in 2019

- 3rd album on 22.04.2020

"Academics isn't everything! Living a decisive & full life is!"

Yours? #RT

— ᴠɪɴ ꜱɪɴɴᴇʀꜱ (@vinsinners) November 3, 2019
Wow
My score card:

10th : 98% topper of my school (all credit goes to mother tongue Kannada)

12th : 75% (after having great battle with English language) i take pride here i worked bloody hard

Grad : 65 % (after having do ir die battle with

my university (VTU) scemes)

PG :not done https://t.co/1qY2n5igqK

— Busy girl 😍🙌😻😄😄😄 (@busyy_girl) November 2, 2019
While a lot of people just gave out their percentage scores, the best answer is the one where the person shares his success timeline. So it is not always ideal to judge a person based on their scores. There are such trends that keep coming on Twitter every now and then. Some are funny, some are important, others are just meant to entertain.