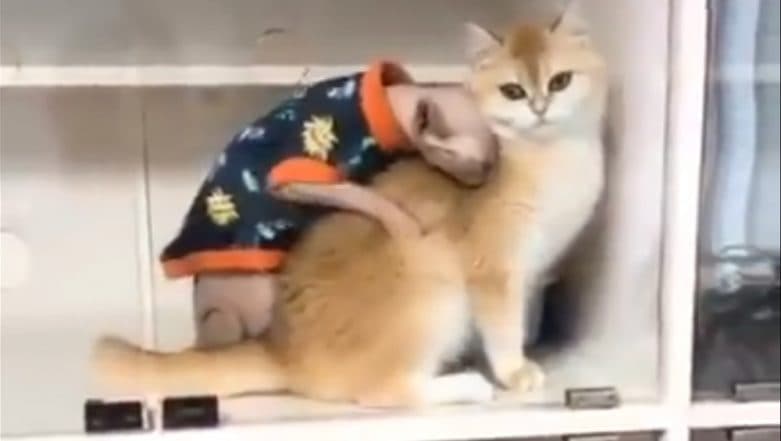 It is Saturday and the internet demands a cat video. Caturday-inspired videos and images are always popular on social media. And this one is no less! So, the video captures a moment shared by two kitty cats who were cosying up to each other. The video is precious but it is inspiring hilarious memes. Netizens are ROFLing over the viral reactions and memes that are spreading online. They are humorous and most of them allude to the present-day dating scenario. This Video of a Pet Dog and Cat Loving Each Other is Going Viral, Watch Cute Clip. 
Well before we begin, let us clarify that there is no intention of misgendering the cats or even social construct of the term "beauty." So, the video shows a hairless sphynx cat wearing a little t-shirt, cuddling its fluffy pal. In support of viral moments, Twitter assumed the hairless cat to be a boy and the other one is a girl. Basically, they talk about those very good-looking females who sometimes dates a nerd or other slightly weird dudes. Maybe because they are intelligent or have a good personality. Watch These Funny Cat Videos and Super Cute Kitten Pictures to Bring a Big Smile On Your Face. 
So, when in a recent tweet, user @katstkat captioned the video, "What beautiful women look like when they hook up with comedians," internet could not stop their wit.
Watch the Viral Video
what beautiful women look like when they hook up with comedians pic.twitter.com/7FhBw9ygxT

— kathryn margaret rose (@katstkat) June 27, 2019
Hilarious memes
that egirl u like and her horrific goblin drug dealer bf pic.twitter.com/qBX0fw3R2W

— boo (@MINECRAFTMILF) June 27, 2019
It is!
That cats definitely a gold digger. She saw his Feline Vuitton turtle neck and let him cuddle. https://t.co/ZiKHhHsQRA

— 𝔍𝔬𝔯𝔡𝔞𝔫 𝔊 (@_Coils) June 26, 2019
Laughing Tears
Im crying 😂😂😂 https://t.co/J0ptZL5Bvg

— Shoshana Sachi (@shoshanasachi) June 28, 2019
Ironic Much?
Even cats have partner. What am I? A rock? https://t.co/RuHHPAI3Iy

— Salty (@Blairnath) June 25, 2019
The video since uploaded gained more than 7 million views on Twitter and the count is still on. Cat lovers cannot stop showering their love on both the felines. By the way, did you notice the third cat in the lower rack? If not, watch the video again.