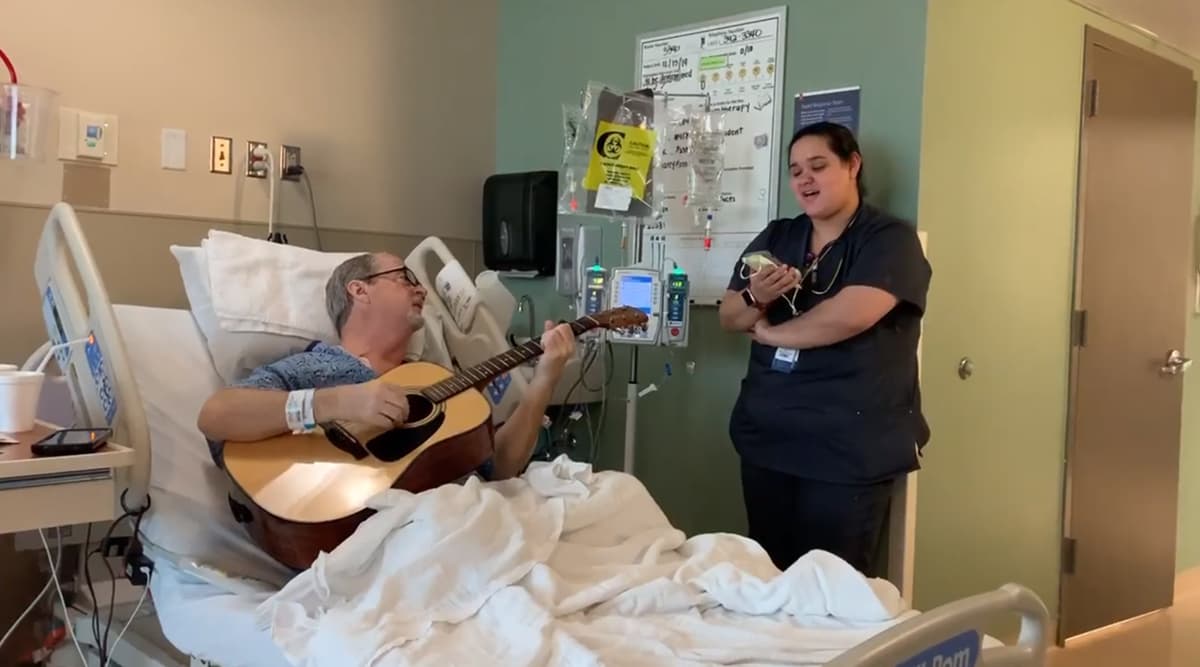 In an incredible video that is going viral, musical moments between an oncology nurse and a cancer patient has gone viral. The nurse in the video, Alex Collazo, works at Sarah Cannon Cancer Institute has a music-filled moment with the longtime Nashville guitarist Penn Pennington. The video shot by Penn's daughter captures an acoustic duet of "O Holy Night". Brandi Mykle Leath made a post on Facebook, feeling blessed with Penn Pennington at Sarah Cannon Cancer Center where she described the beautiful moment she had witnessed. She wrote in her post, "My dad's nurse, Alex, heard that he was a guitar player so she brought her guitar for him to play during his chemotherapy treatments and sang O Holy Night with him. Who knew she could also sing!! Please share and let's get Alex some buzz for nurse of the year!! She's amazing! #alexatsarahcannon"
Take a Look at The Video:
Why Mental Health Is Important For Cancer?
As per reports,  American and Canadian researchers examined how mental health mattered a lot in cancer patients. They analysed the mental health of 191,068 patients from Ontario who either had bladder (29,884), kidney (23,485) or prostate cancer (137,699), as per Cure Today. They also analysed patients who used psychiatric services. The researchers found "a greater risk of people dying from their cancer if they were previously treated for mental health conditions. Compared with people who did not have cancer, these patients had a 1.78 times greater chance of cancer mortality."
Music has a lot of health benefits of music. Right from improved mood to emotional wellbeing, studies have shown that listening to music or singing can create happiness and bring relaxation in everyday life. Not just that it also helps reduce stress, anxiety, improves memory, ease pain, provide comfort and improves cognition.
Brandi Mykle Leath further said in her post that Penn Pennington is a Nashville original guitar player since 1980. He has played at all the old country bars downtown for over 30 years and played at the Grand Ole Opry with Jack Greene for 23 years.
She ended her post with, "Right now he is receiving chemotherapy at Sarah Cannon Cancer Center. Sarah Cannon, best known as Minnie Pearl of the Grand Ole Opry was an American country comedian who appeared for more than 50 years and on the television show Hee Haw from 1969 to 1991."