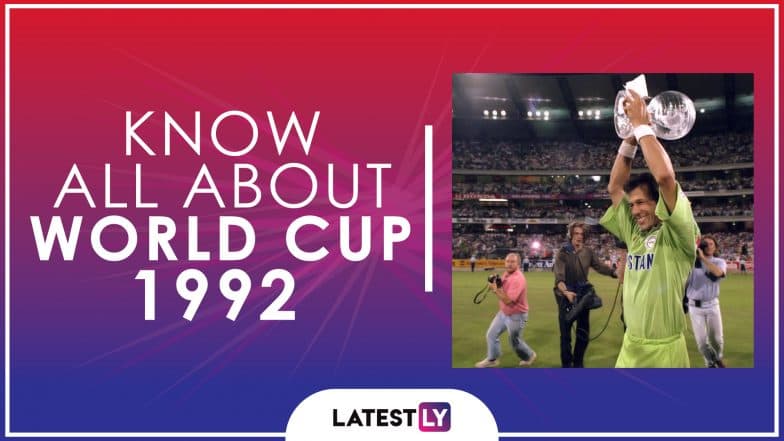 The 1992 Cricket World Cup also known as Benson & Hedges World Cup 1992 was the fifth edition of the limited-overs World Cup. It was held in Australia and New Zealand and was played between February 22 to March 25. 1992 was the first World Cup to feature coloured clothing and white ball. The 1992 World Cup was held across 18 venues with 11 in Australia and seven in New Zealand. The 92 cricket World Cup featured 39 matches, including the semifinals and the final. ICC Cricket World Cup 2019 Schedule in PDF: Ticket Prices, Dates, Venue Details & Timetable Available for Download Online.
Participating Teams and Format: In the 1992 World Cup, a total of nine teams took part. Hosts Australia, England, New Zealand, India, South Africa, West Indies, Pakistan, and Sri Lanka were the full members and Zimbabwe featured as an associate member. It was played in a round-robin format with all teams facing each other once. Top four teams then made it to the semifinals.
Semi-Finalists: New Zealand, England, South Africa, and Pakistan emerged as the top four teams respectively and qualified for the semi-finals. In the first semi-final, Pakistan defeated New Zealand by four wickets to move into the final. In the second semis, England defeated South Africa by 19 runs after rain interrupted the play. Know All About 1975 Cricket World Cup: History, Participants and Winner of the Inaugural Edition of World Cup.
Winner: Pakistan under Imran Khan's leadership life the 1992 World Cup. It was Pakistan's maiden World Cup. Set 250 runs to win, England could manage only 227 and thus lost the match by 22 runs. This was the last time England made it to the final of a World Cup. Indian Team For ICC Cricket World Cup 2019: Players Who Will Be Playing Their First ODI CWC Trophy.
New Zealand's Martin Crowe was the highest run-scorer for the 92 World Cup. He scored 456 runs and averaged superb 114. Apart from a century, Crowe scored four half-centuries. In bowling, Pakistan's Wasim Akram was the highest wicket-taker with 18 wickets from ten matches.