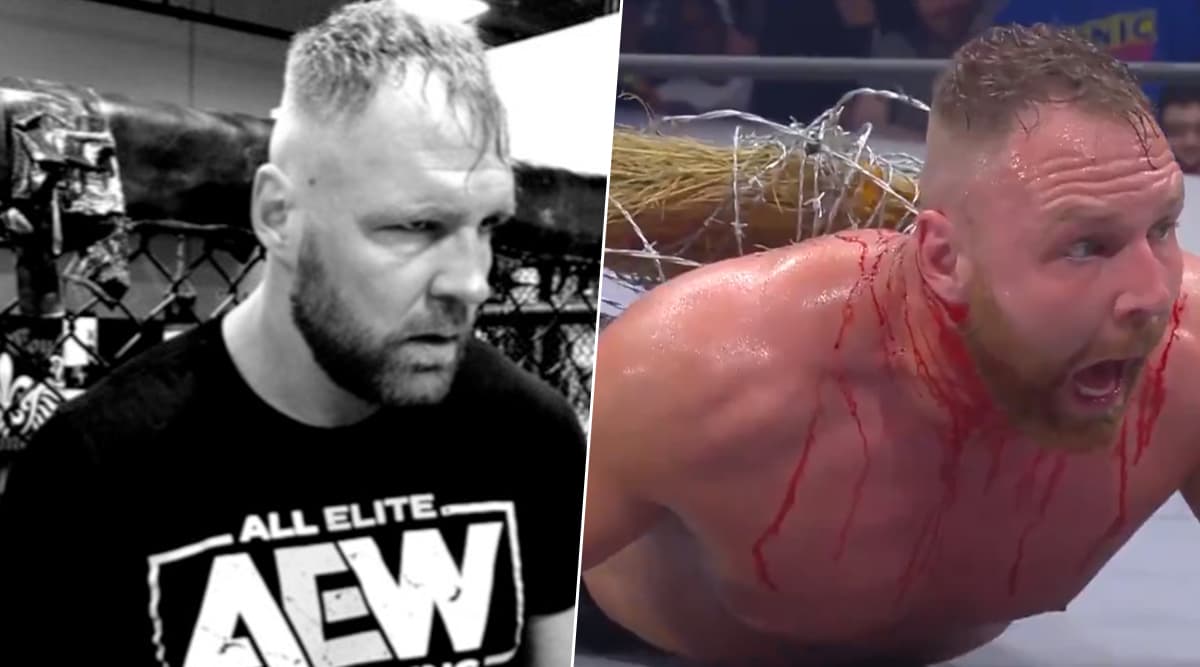 Jon Moxley faced Kenny Omega in the All Elite Wrestling (AEW) pay per view event Full Gear. It took place on Nov 9, 2019, at Baltimore's State Farm Arena. Jon Moxley defeated Kenny Omega in this match, the contest was a brutal affair as wrestlers put their lives on the line in this contest. Let us see below highlights of this match and how Twitterati reacted on former WWE star's hardcore violent match. The Lunatic Fringe Dean Ambrose Exits WWE After Getting Assaulted by Bobby Lashley a Night After WrestleMania 35.
This match between Jon Moxley and Kenny Omega reminded us of old Extreme Championship Wrestling (ECW) days. We saw players attacking each other by barbed wire bat. You cannot term it as a wrestling match, it looked more like a brawl featuring spots you'd expect from a deathmatch card. If this wasn't enough, Omega further went on to damage Jon Moxley by grabbing a board covered with mousetraps. The plan backfired as Omega was slammed on the board by Moxley. Both players luckily were alive after the match with no serious issue, the match was ended by Moxley delivering a paradigm shift to Kenny Omega, which led to the pinfall.
Jon Moxley vs Kenny Omega full match
Jon Moxley Bleeding 
Look at all that blood! Jon Moxley is in his natural environment 😬 pic.twitter.com/5BN32UXZMd

— SI Wrestling (@SI_wrestling) November 10, 2019
Jon Moxley Wife Renee Young Couldn't See Her Husband Like This  
Renee Young is all of us during this Jon Moxley & Kenny Omega match! pic.twitter.com/HVn7hEwyKT

— • (@AnnetteReid24) November 10, 2019
Moxley Fans Proud of Him 
Unsanctionable

Unstoppable

rt if you're proud to be his fan!! #JonMoxley #AEWFullGear pic.twitter.com/eYtkmT2Eve

— D.C. (@DarrenConnolly_) November 10, 2019
Renee Young Reaction After the Match
Renee Young as soon as Jon Moxley walks through the front door #aewfullgear pic.twitter.com/GHWZYP3z7B

— tommy1211 (@wehaveagronk) November 10, 2019
Crowd Bows To Moxley After the Match 
Mox's departure and bows to the crowd #AEWFullGear #JonMoxley pic.twitter.com/5UkZDmJjot

— Becky (@Becky__Falcon) November 10, 2019
Jon Moxley was known by the name Dean Ambrose in WWE where he was the part of the faction The Shield which had Seth Rollins and Roman Reigns as other members. Jon Moxley left WWE this year in April and he was given a very bad farewell as he faced humiliation through Bobby Lashley by getting defeated by him.