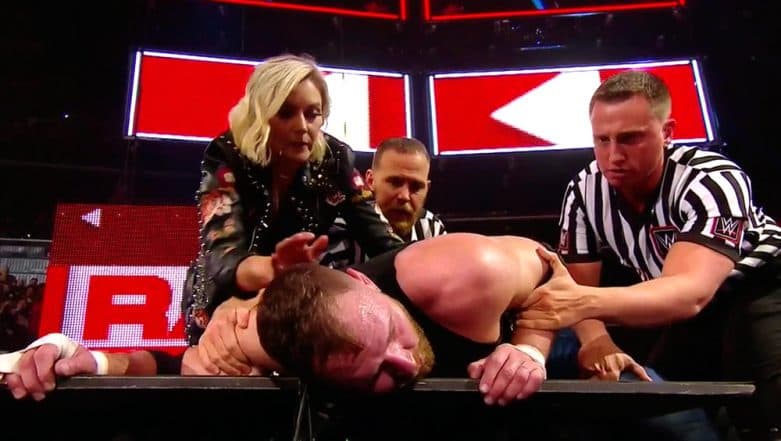 Just a night after WrestleMania 35, we saw Dean Ambrose for one last time as he leaves World Wrestling Entertainment (WWE). However, The Lunatic Fringe Ambrose did not get a happy farewell, as he was assaulted by Bobby Lashley. WrestleMania 35 Results and Highlights: Becky Lynch, Kofi Kingston and Seth Rollins Become New Faces for Championship Title (Watch Video).
Dean Ambrose exit was already decided from WWE as he did not renew his contract in January this year. Ambrose was not even given a match at WrestleMania 35 and was kept away from the main storyline since the time it went on air that he is leaving WWE. The Lunatic only came into limelight last month on the return of his Shield partner Roman Reigns. Dean Ambrose united with The Big Dog Roman and Seth Rollins as a part of Shield reunion to fight match with Bobby Lashley, Drew Mckintyre and Baron Corbin at WWE Fastlane PPV. WWE WrestleMania 35: The Demon Finn Balor Becomes the New Intercontinental Champion by Defeating Bobby Lashley.
Bobby Lashley lost his Intercontinental title to Finn Balor on WrestleMania 35.  Lashley was booked to fight Dean Ambrose on this past episode of Monday Night RAW. This was supposed to be Ambrose last match before he bids adieu to WWE, unfortunately, it did not happen.  As Lashley provoked Dean Ambrose before the start of the match by saying that he will take care of his wife after Ambrose leaves WWE. This lead to a brawl on the ramp between Bobby Lashley and The Lunatic Fringe. Ambrose showed his true character by fighting for his respect, however, the distraction from Lio Rush, helped Lashley to spear Ambrose. The former Intercontinental champion Lashley then slammed Dean Ambrose through the announce table.
Watch the brawl between Bobby Lashley and Dean Ambrose
That probably wasn't a wise thing to say to @TheDeanAmbrose, @fightbobby...#RAw #RAWAfterMania pic.twitter.com/PkMcasJ0G8

— WWE (@WWE) April 9, 2019
You don't talk about a man's wife and get away with it... #RAW #RAWAfterMania @TheDeanAmbrose @fightbobby pic.twitter.com/j5xeaUAUgp

— WWE (@WWE) April 9, 2019
Dean Ambrose slammed on the announce table by Lashley
... or maybe you do?#ThankYouAmbrose #RAWAfterMania #RAW @TheDeanAmbrose @ReneeYoungWWE pic.twitter.com/XFwUp7ZbWH

— WWE (@WWE) April 9, 2019
Watch Dean Ambrose walk out on the ramp for one last time
One last trip to the #AmbroseAsylum... 😢 #RAWAfterMania #RAW @TheDeanAmbrose pic.twitter.com/vP9UCV9ael

— WWE (@WWE) April 9, 2019
Watch Ambrose unite with The Shield after RAW went off the air
After #RAW went off the air, #TheShield united for one final time. #ThankYouAmbrose #RAWAfterMania @TheDeanAmbrose @WWERollins @WWERomanReigns pic.twitter.com/DKIFbNbNSV

— WWE (@WWE) April 9, 2019
Dean Ambrose wife Renee Young left the commentary in the mid of the show, after her husband Dean Ambrose was slammed on the table. Even Michael Cole stated after the commercial break that Young may not be back for commentary. Dean Ambrose deserved a better exit after entertaining the WWE universe for so many years, as one must not forget that he holds the record of being WWE United States Champion for 351 days. This indeed a sad moment for the Ambrose Asylum.