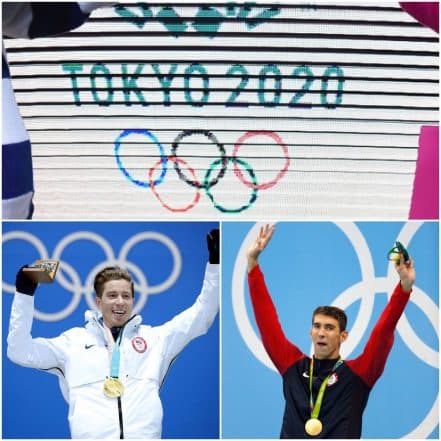 Summer Olympics 2020 is set to hit upon us exactly a year later on July 24, 2020. Olympics 2020 will be hosted by Tokyo, Japan. The international multi-sport event will run for a little over two weeks and is scheduled to end on August 9. Tokyo was selected as the host city after three rounds of voting by the IOC (International Olympic Association) members. Tokyo beat Istanbul by 60/36 votes in the final round. Madrid was the other city that had bid for hosting the Olympics 2020. This Fan-Made Tokyo 2020 Summer Olympics Logo Design Officially Wins The Internet Today! Check Out Photos.
This will be the fourth Olympics in Japan and the first in Tokyo since 1964. Tokyo is also the first Asian city to host the Olympics twice. As many as five sports will be making its debut at the Summer Olympics. The games – Karate, Sport climbing, Surfing, Skateboarding – will be played for the first time ever in Summer Olympics' history, while baseball and softball will make a return at the international mixed-sports event after 2008. They were removed from the summer program after 2008. This Boy Should Participate in Olympics for India, Says Netizens As Video of His Long Jump Across River Goes Viral!
What Sports Are in the Olympics 2020?
As many as 339 events in 33 different sports will be part of the summer Olympics 2020. There will also be 5 new sports and 15 different events and mixed-events introduced in the Olympics 2020.
Among them are 3x3 basketball, freestyle BMX and Madison cycling. Other events included are: Aquatics, Artistic Swimming, Diving, Swimming, Water Polo, Archery, Athletics, Badminton, Baseball, Softball, Basketball, Boxing, Sprint, Cycling, Mountain & Road Biking, Track Cycling, Equestrian, Eventing, Jumping, Fencing, Field Hockey, Football, Golf, Gymnastics, Handball, Judo, Karate, Rowing, Rugby events, Sailing, Shooting, Skateboarding, Sport Climbing, Surfing, Table Tennis, Taekwondo, Tennis, Triathlon, Volleyball, Beach Volleyball, Weightlifting and Wrestling
When Does the Tokyo Olympics Start?
The opening ceremony of the Tokyo Olympics will be held on July 24 (Friday) which will kick-start the Summer Olympics. Some events such as Football and softball will, however, start on July 22, 2020.
How to Get Tickets to Olympics 2020?
Fans interested in visiting Tokyo, Japan, to watch the Summer Olympics 2020 and follow their respective teams can buy tickets online through the Olympics' official ticket vendor. The official website of the IOC, which is providing fans with the option to purchase tickets, however, states that only residents of Japan can now purchase tickets for Olympics 2020 through the IOC website.
Nationals of other countries have been requested to purchase tickets from their country's designated Authorised Ticket Resellers (ATR). For Purchasing tickets via the IOC website click Here.
Is Shaun White Going to the 2020 Olympics?
Three-time Olympic gold medallist in Snowboarding and Skateboarding, Shaun White is an American sporting legend. Speculations over his participation in the Summer Olympics 2020 has been doing the rounds since White will have to take part in Skateboarding.
But White recently announced that he'll be competing in the world Skateboarding championships in Brazil this September, which should serve as perfect preparation for the upcoming Tokyo Olympics. Although he is yet to confirm his participation in the Skateboarding event, the US legend might have just given a hint of his future plans.
Is Michael Phelps Competing in the 2020 Olympics?
One of the most successful and decorated Olympian of all-time, Michael Phelps has 29 Olympic medals of which 13 are gold medals in individual events in swimming. He broke records at will in the 2008 Beijing Olympics winning as many as eight individual gold medals.
Phelps first announced his retirement at the end of 2012 Olympics but made a return and achieved more feats in the next three Olympics before calling it quits for a second time. Will he return again to swimming and creating records? Sadly the answer is no.
Unlike, White, Phelps has no decision to make, because he has already made one. "I've lost it, so no comeback you guys," said the Swimming legend at an event in New Delhi, India, on March 2019. But despite squashing all rumours about another sensational comeback, Phelps has fully backed the US swimming team to win even in his absence.
The torch relay for the Summer Olympics 2020 will begin in Naraha, Fukushima on 26 March 2020 after the torch makes it traditional leg in Greece.
Earlier, some sports including Wrestling was excluded from the Tokyo Olympics causing controversy in the sporting world since wrestling has been a part of Olympics since the ancient Olympics. Later, however, it was included along with Karate and softball.
There will also be 56 Test Events before the Olympics and Paralympic Games, which will be contested between June 2019 and June 2020. It will be completed before the start of the Tokyo Olympics.