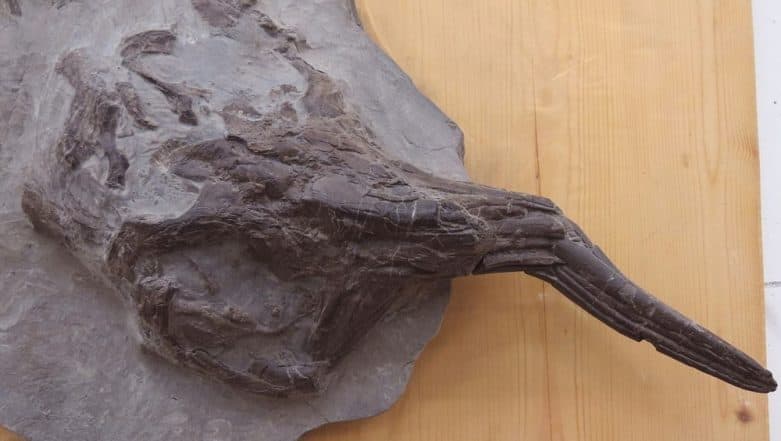 A pre-Jurrasic fossil of Ichthyosaur dating about 145 million years ago which was uncovered from Kutch, Gujarat has become a bone of contention between students and scientists. Krantiguru Shyamji Krishna Verma Kachchh University (KSKVKU) have claimed their rights over this fossil which was found almost two and a half years ago. They do not want to hand it over to the palaeontologists in Delhi for further studies about the reptile. 'First Giant' Dinosaur Found in Argentina, Fossil Weighing Around 10 Tons Uncovered! 
The fossil which is seven-meter long was said to be of a 145-million-year-old herbivorous dinosaur. It was found at an excavation site in Lodai village in the year 2016. However, it was later found that the fossil is actually of a marine reptile, a species that existed in the Triassic and Jurassic ages, almost 150 million years ago. World's Oldest Snake Fossil Dating Back to 100-Million-Years Found in Myanmar. 
Scientists from Delhi want to take the fossil there so that the vertebrae can be arranged. Arranging the vertebrae helps the scientists to study the behaviour, reproduction and appearance of the creature. But the students and the team who excavated the fossil want to look after it personally. Dr G V R Prasad who had headed the excavation was quoted in a TOI report, "The fossil is lying in their geology department. We wanted to remove the rock matrix surrounding the skeleton to carry out a detailed study. For that, we need to prepare the skeleton, but that cannot be done at the Kutch university." They were informed that they had no such permissions from their vice-chancellor.
The team wants to prepare it properly and are willing to give them back for the exhibit. The fossil is currently wrapped in plaster of Paris and preserved at the department's museum. An associate professor from Kutch's geology department named Dr Subhash Bhandari said they have asked for funds from the union government to preserve it. "We want to display the entire skeleton here because it was excavated from Kutch and our faculty members and students played a vital role in the discovery. We will keep the fossil with us and will not hand it over to Delhi," he was quoted in the report. The ancient piece of discovery has become the subject of a fight between the two institutions.