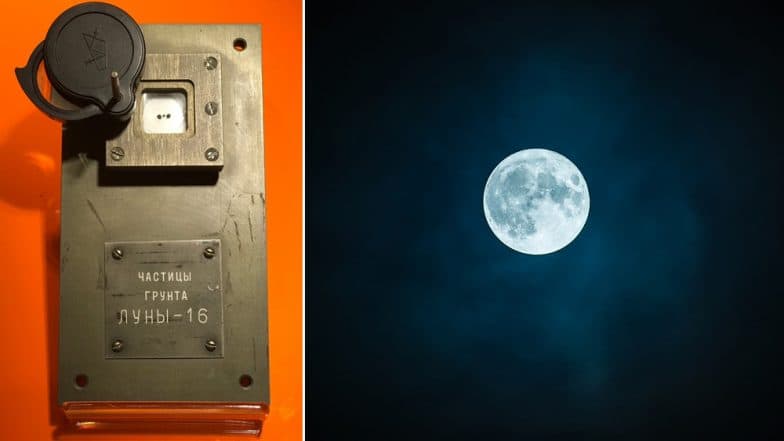 Owning a piece of the moon would be such a privilege but it definitely comes at a huge price. Three lunar samples that were brought to the Earth almost half a century ago have been sold for a whopping amount of Rs 6 crore,  $855,000 to be exact in New York Sotheby's. The three rocks were brought from the Soviet Luna- 16 Mission in the year 1970. These rocks were owned by US sellers who had bought them at $442,500 in the year 1993. Years later, these lunar rocks have been sold at almost double that amount. Parts of Moon and Mars in One Picture, Woman Holding the Meteor Pieces Goes Viral. 
Nina Ivanovna Koroleva, wife of former director of the Soviet space program Sergei Pavlovich Korolev was the original owner of these rocks. She was given them in honour of the work done by her husband by the Soviet Union. Korolev was a rocket engineer, aircraft and spacecraft designer, who made a significant contribution in launching the Soviet space program during the 1950's. Numerous space programs were successful because of his contribution. But unfortunately, he passed away before the lunar samples were brought to the planet. Marie Antoinette's Pearl & Diamond Pendant Auctioned at Sotheby's for Record $36.4 Million (View Pics) 
Check Sotheby's Tweet About the Auction of Moon Rocks
#AuctionUpdate Returned to Earth by the unmanned Soviet Luna-16 mission in 1970 and the only known documented lunar samples in private hands, these moon rocks take off in our #NYC salesroom for $855,000! #sothebysinspace pic.twitter.com/yiakcLT1gB

— Sotheby's (@Sothebys) November 29, 2018
In general, to have lunar samples back in the market is very rare as they are owned by Americans in the hands of the US government. No individuals are able to own them easily. And there are so many people who are extremely curious about these rare rocks and space exploration is always been of an interest to keen enthusiasts. Talking about the value of these rocks Sotheby's expert Cassandra Hatton told AFP,  "When you really think about the true cost ... many lives were lost attempting to get up there. The symbolism of that, the value is far greater than any dollar amount somebody would pay for it at auction."