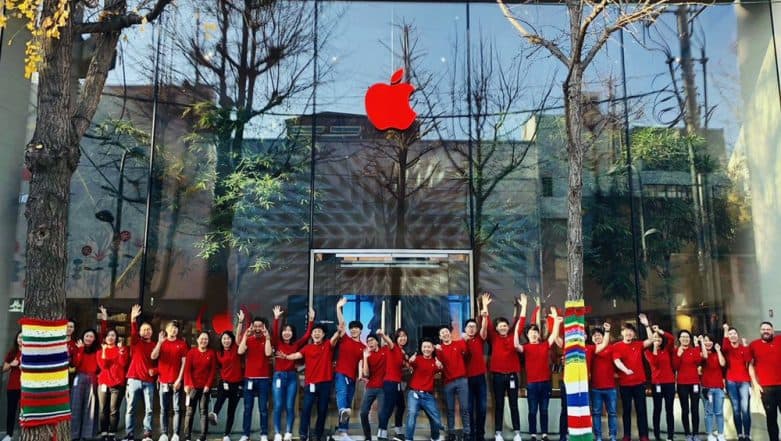 Ahead of World AIDS Day, which takes place on December 1, Apple - a Cupertino-based company went ahead to turn the Apple Store logos into RED at several location around the world. The American tech giant took this extraordinary step to create more awareness among people. The company has confirmed that Apple logos across 125 stores will turn red, which also includes Champs-Elysées store. Moreover, the company will also be displaying Product RED decals - "Choose (RED). Give Life" on the windows over 400 retail stores. People Buying More Apple iPhone XR Than iPhone XS & iPhone XS Max; Here's Why.
Also, Apple CEO Tim Cook too shared some pictures of Apple stores with Red logos on Twitter. Moreover, the American technology company has been in collaboration with RED, a charity organisation for more than a decade. This organisation has been providing much needed support for fighting AIDS in Africa. Google Renames Project Fi as Google Fi; Now Supports Apple iPhones, OnePlus and Samsung Phones.
Apple stores around the world are turning red to honor #WorldAIDSDay. Together, we can achieve an AIDS-free generation. pic.twitter.com/rdySNTAWdn

— Tim Cook (@tim_cook) November 30, 2018
Apart from turning retail store logos into red, Apple also published a couple of stories in the App Store. The company said that its partnership with RED allows the users to purchase a product and help save a life. The company is retailing more than 20 RED products this year which includes iPhones, Apple Watch Bands, iPhone cases and much more.
As part of partnership with RED, Apple will donate $1 to RED for every Apple product purchased at the retail stores, online as well as Apple Store app starting from December 1 to December 7. Apple To Cut iPhone XR Prices in Japan; Likely To Reintroduce Apple iPhone X - Report.
The company said in a statement that, "For 12 years, our partnership with (RED) has supported HIV/AIDS programs that provide counselling, testing, and medicine that prevents the transmission of HIV from a mother to her unborn child. We're pleased to announce that we've now raised over $200 million through the sale of our (RED) products. Every purchase brings us a step closer to an AIDS‑free generation."