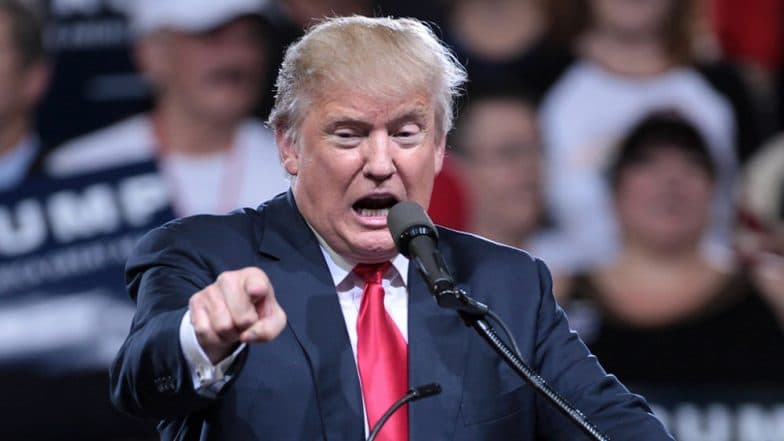 Washington, November 9: United States President Donald Trump lost his temper on another journalist -- two days after he lambasted senior CNN correspondent Jim Acosta during a press conference, which led to the scribe's credentials being revoked by the White House.
The incident on Friday was also reported in the White House, where the President was addressing a press conference before leaving for Paris to attend an event to commemorate the World War I. White House Suspends Pass of CNN's Jim Acosta After Heated Confrontation With Donald Trump.
The latest clash also involved a CNN reporter - Abby Phillip - who asked Trump whether he has directed the attorney general to hold back an exclusive investigation into his alleged colluding with Russia ahead of the 2016 presidential elections.
Enraged by the question, Trump replied: "What a stupid question that is, what a stupid question. But I watch you a lot. You ask a lot of stupid questions".
The President went to "warn" other journalists present at the press conference to show more "respect towards the presidency".
Before ending his interaction with the reporters, Trump snapped at another reporter - April Ryan from American Urban Radio Networks - calling him "a loser" and "very nasty".
When some of the reporters sought to know how long will Acosta's White House credentials remain revoked, Trump said he has not decided on that. "It may be extended to others as well," he threatened.
Notably, Acosta's credentials were suspended on the charge that he misbehaved with a female staffer of the White House, "by putting his hands on her". Press Secretary Sarah Sanders shared a video of the purported incident. Watch here:
We stand by our decision to revoke this individual's hard pass. We will not tolerate the inappropriate behavior clearly documented in this video. pic.twitter.com/T8X1Ng912y

— Sarah Sanders (@PressSec) November 8, 2018
Sections of the US media, however, rubbished the video shared by Sanders, calling it "visual propaganda". Credible publications, including The Washington Post, cited experts who claimed that the video was carefully edited to "exaggerate the aggressiveness" of Acosta's actions.