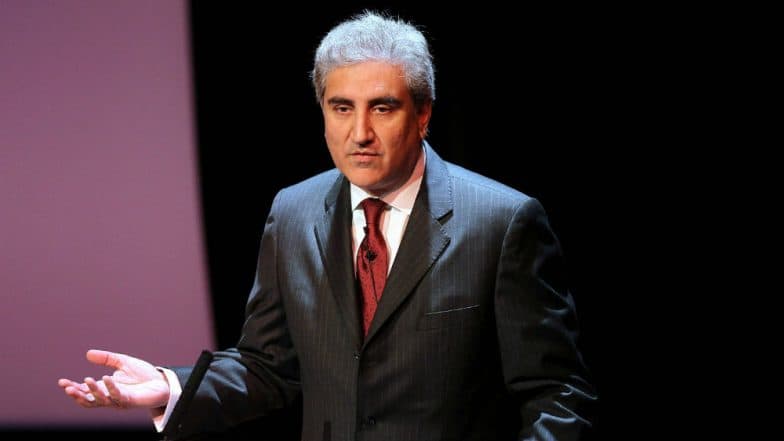 New Delhi/Islamabad, March 1: Pakistan Foreign Minister Shah Mahmood Qureshi on Friday said he won't be attending the inaugural session of the 46th Council of Ministers' Meet of the Organisation of Islamic Cooperation (OIC) where India's External Affairs Minister Sushma Swaraj has been invited as the 'Guest of Honour'. Qureshi also clarified he will participate in the rest of the sessions of the OIC meet.
"I will not attend Council of Foreign Ministers as a matter of principle for having extended invitation as a Guest of Honour to Sushma Swaraj," Qureshi said. Swaraj is expected to deliver a speech at the inaugural session of the 46th Council of Ministers' Meet. She has been invited by UAE Foreign Minister Abdullah bin Zayed Al Nahyan to address the OIC meeting. Masood Azhar in Pakistan But Very Unwell: Pak Foreign Minister Shah Mahmood Qureshi.
The invitation to Swaraj came amid fresh tensions between India and Pakistan following the February 14 suicide bombing by Jaish-e-Mohammed in Jammu and Kashmir's Pulwama and subsequent air strike by the Indian Air Force on a terror camp in the neighbouring country. Earlier, Qureshi threatened to boycott the OIC meet if Swaraj participates in the event. India-Pakistan Tension: Blacklist Jaish-e-Mohammed Chief Masood Azhar, UK, US and France Tells UN Security Council.
"I have no reservations with the OIC or any other Islamic country. My reservations are with Indian Foreign Minister Sushma Swaraj's attendance at the OIC meeting. If Swaraj attends the meeting then I will not participate in it," he had said. He also spoke to his UAE counterpart Sheikh Abdullah bin Zayed Al Nahyan and expressed his reservations over an invitation to Swaraj.
Notably, the OIC on Tuesday 'condemned' India's 'incursion and aerial violation' in Pakistan. The OIC is an international organization founded in 1969, consisting of 57 member states, with 40 countries being Muslim Majority countries.