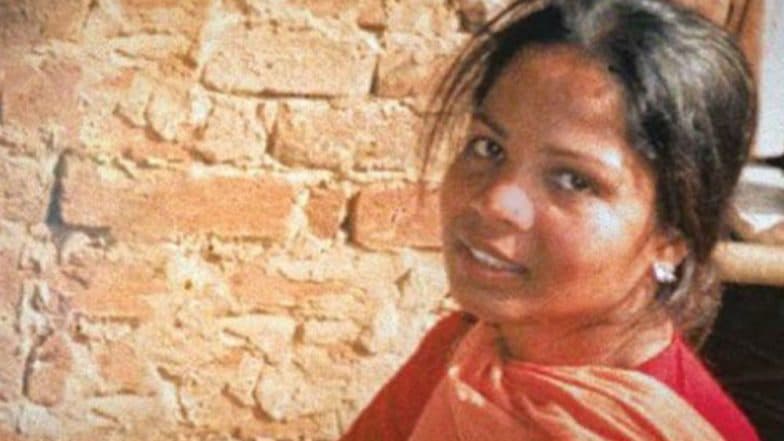 Toronto, January 28: It seems that Asia Bibi's reprieve is going to be short-lived as Pakistan's Supreme Court will begin a review of its own acquittal of her charge of blasphemy. The court will begin hearing the case on Tuesday, January 29.
Asia Bibi, a Christian woman had spent eight years on death row, before her case was heard by Pakistan's top court and was acquitted of the charge of blasphemy in 2018. But post her release, she has had to go into hiding as religious hardliners have called for her death and the court's ruling to be overturned.
A three-judge panel, including Pakistan's new Supreme Court Chief Justice Asif Saeed Khosa, is due to hear the case.
Bibi, a farm worker, was arrested under Pakistan's draconian blasphemy law in 2010 after being accused by her Muslim neighbours of making derogatory remarks about Islam over a dispute over drinking water from the same well. She has always denied committing blasphemy.
Bibi's lawyer, who had fled Pakistan after securing her release due to threats to his own life said he expected the review to dismiss the attempts to reopen the case. "They have filed the petition on flimsy grounds. They haven't attempted to counter her release on constitutional grounds," said Saif-ul-Malook, who returned to Pakistan this week and will represent Bibi in court.
Bibi's release has become a political hot-potato for Imran Khan's nascent government as Islamist hard-line parties have attempted to create chaos in the country using Bibi's case as an excuse. Supporters of Tehreek-e-Labaik (TLP) group blocked main roads in Pakistan's biggest cities for three days after Bibi's acquittal, called for the Supreme Court judges who freed her to be killed and urged public servants to kill Bibi as well.
Asia Bibi has asked to be allowed to leave the country and seek asylum in countries such as Germany or Canada but her case has led to the Pakistan government placing her on the exit-control list.