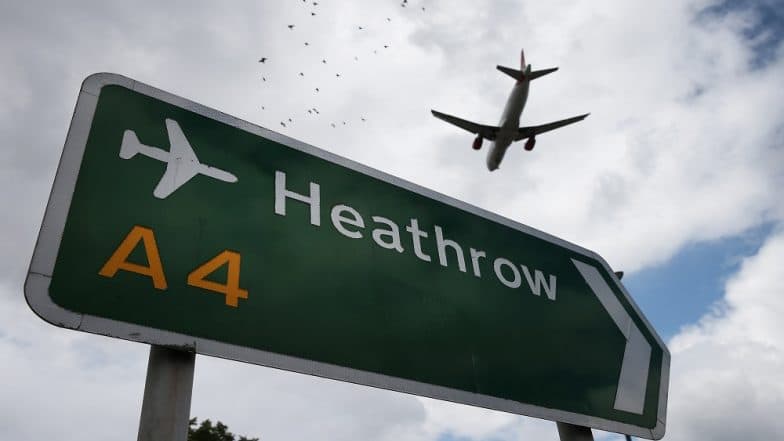 London, March 5: Driving the UK authorities into panic, small improvised explosive devices (IEDs) were recovered on Tuesday at the Heathrow Airport, City Airport and Waterloo Station in London. The British counter-terrorism agency has launched an investigation, reported news agency Reuters. The flight and railway operation, however, is functioning as per the schedule.
The UK Metropolitan Police issued a statement claiming that the first suspicious package was detected at the Compass Centre in the building housing the Heathrow Airport at 9:55am, following by another IED being recovered at 11.40am at the Waterloo station. The third suspicious material was seized at the London City Airport Aviation House at 12:10pm. Gatwick Airport Drone Chaos: Paul Gait And Elaine Kirk Arrested in Connection to Flight Disruption.
"The Met Police Counter Terrorism Command is treating the incidents as a linked series and is keeping an open mind regarding motives," they added in a statement.
The Heathrow and City Airports issued separate statements confirming to the commuters that all flights are arriving and departing as per the schedule. The Waterloo station, which is akey terminus on the Northern Rail network, is also operating as usual.
We can confirm that the airport is operating as normal, flights are not impacted and the DLR is fully operational https://t.co/4cfB0oQMS7

— London City Airport (@LondonCityAir) March 5, 2019
Hi there, thanks for tweeting. Earlier today we responded to reports of an incident at a building near the airport boundary. Emergency services attended the incident quickly and staff were evacuated safely.

— Heathrow Airport (@HeathrowAirport) March 5, 2019
Officials privy to the counter-terrorism investigation said the bombs were recovered were "small", and were unlikely to had caused major damage if they would had exploded.