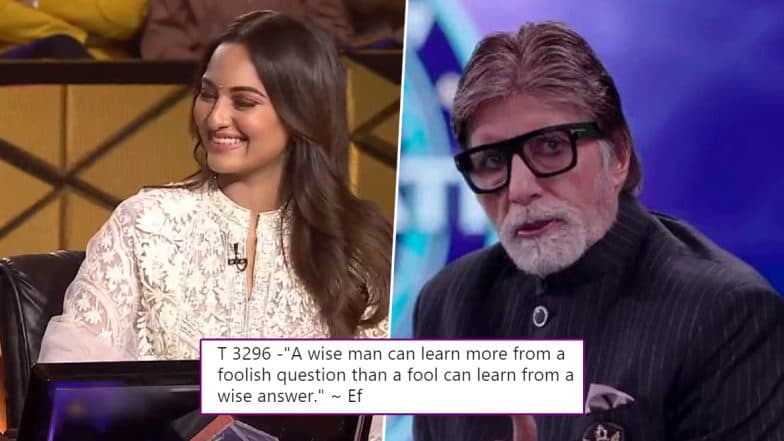 Sonakshi Sinha's stint on a Kaun Banega Crorepati 11 episode turned into a nightmare for her in no time. The actress accompanied an entrepreneur Ruma Devi from Rajasthan who was invited as a Karamaveer contestant on KBC 11. However, as she failed to answer the question based on 'Ramayana', the trolls slammed her left, right and center. Even her clarification post did not help much and the trolls continued to trend things like #YoSonakshiSoDumb, #sonakshisinha on Twitter. Now, finally, it seems that the host of the show, Amitabh Bachchan has taken the matter into his own hands. He recently tweeted a cryptic tweet which is not really cryptic! Sonakshi Sinha Flooded With Mean Tweets After Her 'Jaage Hue Trolls' Post; Twitter Trends #SonakshiSoDumb Again.
He wrote, "T 3296 -"A wise man can learn more from a foolish question than a fool can learn from a wise answer." ~ Ef एक बुद्धिमान , एक मूर्खतापूर्ण प्रश्न से ज़्यादा सीख सकता है ;बनिस्बत एक मूर्ख एक बुद्धिमान उत्तर से ~ अब."  The tweet is too obvious to decode and the timing is perfect! Twitterati too could not help but relate it to the whole Sonakshi episode. Check out the tweets below.
Amitabh Bachchan's Tweet
T 3296 -"A wise man can learn more from a foolish question than a fool can learn from a wise answer." ~ Ef

एक बुद्धिमान , एक मूर्खतापूर्ण प्रश्न से ज़्यादा सीख सकता है ;

बनिस्बत एक मूर्ख एक बुद्धिमान उत्तर से ~ अब

— Amitabh Bachchan (@SrBachchan) September 22, 2019
Twitterati Decodes It!
One For Sona
'sonakshi' is the right answer...😂

— Arbind Kumar (@kumar_arbind) September 22, 2019
Oops!
Sir ab rahne bhi do, kitna Mazak banoayey @sonakshisinha ka .

— Loop 🚬 (@KhayaliCharas) September 22, 2019
The Million Dollar Question
Sir has this tweet got any thing to do with Sonakshi ji ?

— MAYUR (@bhattmayur) September 22, 2019
Formality
Cc: @sonakshisinha Bcc: @ShatruganSinha https://t.co/LBhv45J2CM

— Ankur અંકુર 🇮🇳 (@MistryAnkurr) September 22, 2019
On Big B's 'Jibe'
Aap bhi sir @sonakshisinha ke troll kiye par 'jibe' le rhe ho.

— XA SA (@INDIAN0131) September 22, 2019
When Sonakshi got confused with the question, 'According to Ramayana, Hanuman fetched the Sanjeevani Buti (herb) for whom?', even Big B was left awestruck. He reminded her that her father, brother and uncles are named after the characters of this mythology and even their residence is named as Ramayana. But Sona took the lifeline to answer the correct answer. Well, now that the superstar himself has intervened, we can consider it as a subtle warning for the trolls to finally back off and leave the 'wise' actress alone!