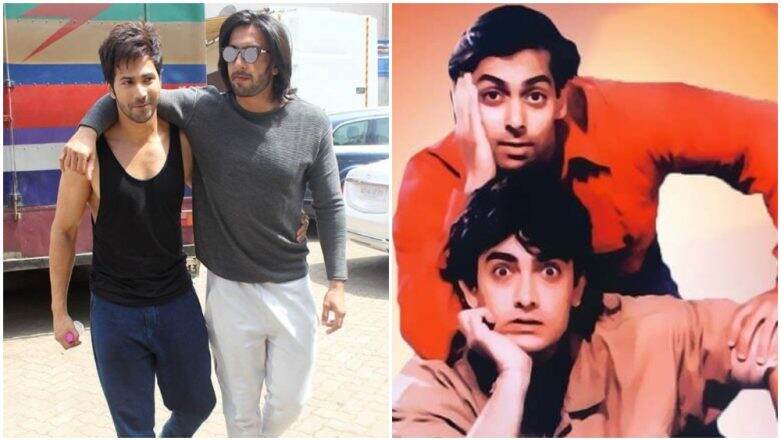 For years, there have been rumours going on that Salman Khan and Aamir Khan's cult classic comedy, Andaz Apna Apna, is getting either a sequel, remake or a reboot treatment. At first, there were reports that a sequel is being made that will bring back Aamir and Salman as Amar and Prem respectively. Then there was a news that an animated movie was to be made with these characters by producer Siddharth Jain, though that got shelved over copyright rumours. Now Filmfare had put up a story saying that Varun Dhawan and Ranveer Singh has been roped in for a reboot of the film. Ranveer Singh and Varun Dhawan Replace Salman Khan and Aamir Khan in Andaaz Apna Apna Remake?
However, it looks like that news is far from true.  SpotBoye got in touch with producer Vinay Sinha, who still holds the rights for the movie, who has denied any such development. Speaking to the portal, he said, "No, Ranveer and Varun have not been signed for the project. I haven't even spoken to anyone, haven't even locked the script yet, there is no question of starring anyone as yet. I wish people call me before writing such things as it disturbs the industry." Strangely, even the stars themselves had not denied it when the news was trending on social media. Salman Khan Birthday Special: 5 Movies Where Bhai Delivered Fine Performances in Small Doses.
Sinha, though, confirmed that Andaz Apna Apna 2 is a priority for him, though it is quite early to say anything about the film. He continued, "Yes, I surely will make the sequel and the germ of the idea is there in my mind but right now we are working on finalising the script first. This is going to be Andaz Apna Apna 2, neither a sequel nor a remake but a fresh subject." Salman Khan and Katrina Kaif Sharing Same Cup of Coffee Reminds us of Iconic Andaz Apna Apna Comedy Scene.
Andaz Apna Apna came out in 1994, when the two Khans had begun enjoying the fruits of their superstardom. Directed by Rajkumar Santoshi, the movie also starred Karishma Kapoor, Raveena Tandon, Shakti Kapoor and Paresh Rawal, with cameos from Juhi Chawla and Govinda.
Though it was the first time Aamir and Salman played leads in a movie together, Andaz Apna Apna failed to work at the box office. However, in the years ahead, the movie got huge cult popularity, as the viewers began to relish its comedic genius (and some meta) in its perennially funny jokes and scenes. Now it is considered as one of the funniest movies that Bollywood has ever made, with characters Amar-Prem, Teja, Crime Master Gogo, Bhalla and Robert becoming permanently etched in the memories of fans.