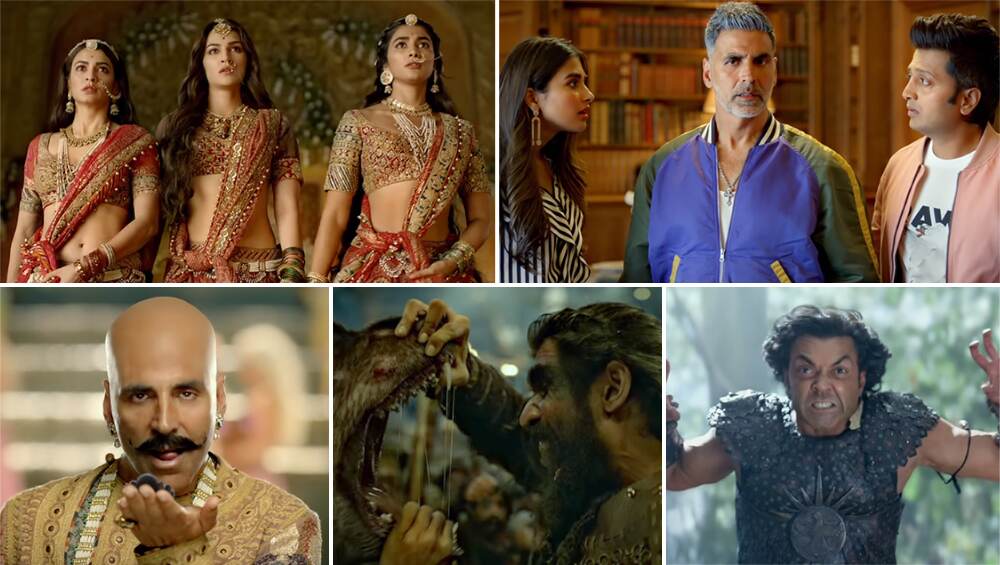 The first trailer of the upcoming comedy film, Housefull 4, has been dropped on the internet. This, as the title suggests, is the fourth entry in the critically-panned franchise of Housefull. Akshay Kumar and Riteish Deshmukh return for the fourth time to lead the comedy. They are joined by Bobby Deol, Kriti Sanon, Kriti Kharbanda, Pooja Hegde. This time around the movie has picked the concept of reincarnation to bring the house down. In the past movies like Om Shanti Om, Prem, Karz, Ek Paheli Leela, Magadheera have dealt with the idea of rebirth. But this might be the first time the idea has been integrated with masala-comedy.
The plot of the film is set in two eras; 1419's Sitamgarh and 2019's London. The scale of Housefull 4 looks lavish. There are grand sets looking visually aesthetic. Heavy VFX is also employed to achieve the grandeur of the gone-by era. The jokes are on-brand with the Housefull franchise. Lame puns and silly innuendo are the reason why there is a fourth part, so, no point in criticising the humour. Well, with reincarnation at thick, Housefull 4 certainly gave the makers a chance to give new birth to the franchise. But as Akshay Kumar's character in the film says, they are making the same mistake as they made in the past, taking them to the same fate.  It's Akshay Kumar vs Rana Daggubati in Housefull 4! Get Set to Watch the Actors in a Jugalbandi.
Watch The Trailer of Housefull 4 Here:
The movie credits Farhad Samji as the director of the film. He only stepped in mid-way after Sajid Khan was relieved from his directorial duties after his name surfaced during the #MeToo movement in India. Nana Patekar was also removed from the film after his name was surfaced during the same wave.
Watch Farhad Samji Talking About Replacing Sajid Khan to LatestLY Here:
Housefull 4 has been slated to release on October 25. Nawazuddin Siddiqui, Rana Daggubati, Chunkey Pandey, Guru Randhawa will be seen in a special appearance in the movie. Rana plays the role that looks like a discount Khal Drogo from Game of Thrones. From the looks of it, he will be the antagonist. Some meta-comedy comes along with Nawazuddin, taking a dig at his roles in Sacred Games and Kick, while playing an exorcist in Housefull 4.