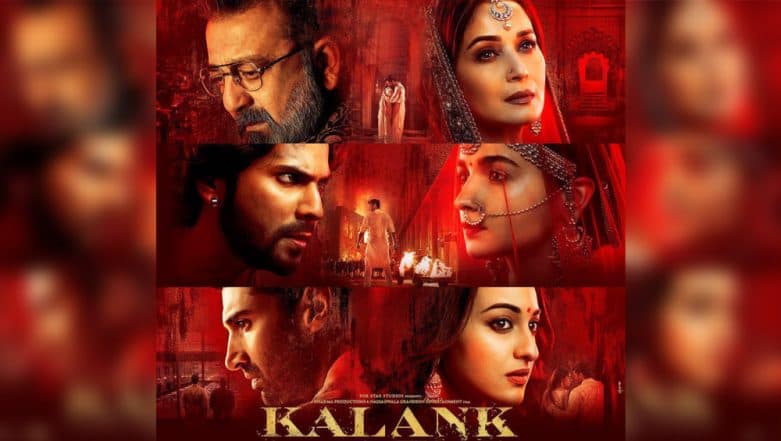 After delivering a big hit with Kesari, Karan Johar's banner, Dharma Productions returns with another period piece this year in Kalank. Featuring an ensemble cast, Kalank stars Alia Bhatt, Varun Dhawan, Aditya Roy Kapur, Sonakshi Sinha, Madhuri Dixit Nene, Sanjay Dutt, Kiara Advani and Kunal Kemmu. The story of Kalank was said to be originated from KJo's father, the late Yash Johar, and once upon a time, Karan himself had planned to direct the film with a different cast. Now he has handed the reins to Abhishek Varman, know for making 2 States that starred Alia Bhatt and Arjun Kapoor. We are watching Kalank right now and here's what we think of the first half. Box Office Prediction: Will Varun Dhawan and Alia Bhatt's HIT Jodi Ensure the Biggest Opening For Kalank?
"Kalank is set during the period when India is about to get its freedom but also in the throes of suffering from partition massacre. In a strange circumstance, Satya,. a daughter-in-law of a rich household, convinces a sprightly young girl, Roop, to marry her nice guy husband, Dev and live with them in a town near Lahore. Near the same town is a marketplace called Hira Mandi where lives Zafar, a Muslim orphan who has a vengeance against Roop's new family. When Roop comes to learn music from Bahar Begin in Hira Mandi, Zafar tries to be close to her.
What strikes you first about Kalank is how beautiful the frames look, for which you have to appreciate the Cinematography and the production design. Every frame feels lovely on the eyes, and somewhat elevates the cluttered screenplay of the film. The first half of Kalank is slow but has its moments. The drama moves on predictable lines and the reveal near the interval is easily predictable. The focus is more on establishing the romance between Zafar and Roop, which is problematic in its setting driven by the selfishness and perviness of it all. Kalank Designer Manish Malhotra Reveals Some Crucial Details about Styling Madhuri, Sonakshi and Alia in this Period Saga.
Among the cast, it is Alia Bhatt who manages to shine the most. With intentions of certain characters revealed, looking forward to see the drama and the love quadrangle develop further, especially with the partition horror staring in the faces of the lead characters."