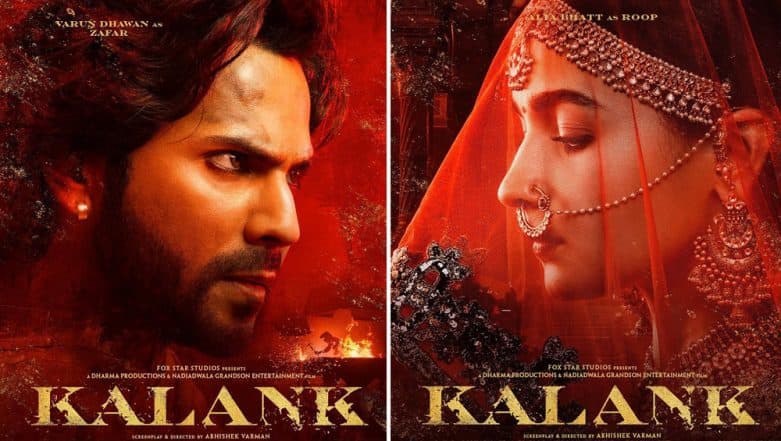 Karan Johar and the entire star cast of Kalank came together to unveil the first teaser of their movie today afternoon. While grandeur was written all over the different posters released by the makers earlier, the two-minute long teaser just took the entire experience a notch higher. With beautiful sets, powerful dialogues and the gorgeous star cast, Kalank is a perfect Karan Johar movie that screams perfection in each scene. We're totally in awe of this period drama that revolves around the time of partition but hey, Twitterati seems to be loving it too. Kalank Teaser OUT! Alia Bhatt and Varun Dhawan's Undying Romance Is The Highlight In This Regal Family Drama (Watch Video).
Watch the video below to find out what Kalank teaser is all about
From cheering for Aditya Roy Kapur's comeback to showering Alia Bhatt with some good words, Twitterverse is going gaga over this next big Dharma release. Don't believe us? Check some of the twitter reactions right below. Kalank Teaser: Did You Notice This Blink-And-Miss Appearance of Sanjay Dutt and Madhuri Dixit Together? (View Pic Inside).
We totally agree!
WOW! What a fascinating visuals 👀Gigantic #KalankTeaser.. Madhuri - Varun ARK - Sonakshi - Alia - Sanjay 👌💯 https://t.co/YyEZimGBkZ

— Parth R™ (@ParthyBwoy) March 12, 2019
This one's from Alia-Varun's hardcore fan
Loved #KalankTeaser. The movie looks magestic and ethereal. Totally in love with @Varun_dvn & @aliaa08's look. Look forward to Zafar and Roop's love story. #Kalank #KalankTeaserToday #VarunDhawan #AliaBhatthttps://t.co/Ya2bwh6FhD

— Amena (@Fashionopolis) March 12, 2019
The one who's excited for Aditya Roy Kapur
Will be watching this movie for this Man.. ❤️❤️Glad to see him and his intensity after such a long time 😍#AdityaRoyKapur#KalankTeaserpic.twitter.com/n6wqDAVRfP

— Isha ✨ (@Khanna2412) March 12, 2019
Yea, can we fast forward the time?
I just wanna watch #Kalank right now.. Can't wait man just can't wait... It's magical @Varun_dvn @aliaa08 @MadhuriDixit Wow i m just speechless at this moment,what a teaser man..👍✌💯❤👏👏#kalankteaser

— Ranita💙🍁💙 (@RanitaGhosh11) March 12, 2019
Amazing, that's the word
#KalankTeaser what an amazing teaser🔥🔥 @Varun_dvn u r on fireee🔥🔥🔥now just cant wait😍@aliaa08 @sonakshisinha @karanjohar #AdityaRoyKapur

— varunic_forever😍 (@varunic_) March 12, 2019
The eternal beauty
Stunning in 90s

Stunning in 00s

Stunning in 10s

Madhuri Dixit, ladies and gents #KalankTeaser pic.twitter.com/vb5HWrcOBv

— ѕσℓє∂α∂ 🕊️ (@ikerina) March 12, 2019
The perfect description
A love story ,its magnificence ,its scale and the spectacle of it assures a chronicle to be cherished! Awaiting to witness the wonder of Love's course over the demons within and around one.#kalankteaser#Kalankhttps://t.co/yiOPvSg7sH

— Mirra (@tinseltimes) March 12, 2019
That music did give us some goosebumps
Another epic character....🔥❤❤ #KalankTeaser 🔥🔥

I can't stop watching it

Kalank nahi ishq hain yeh😭 epic🔥🔥

— E N A Y A |भारत 🇮🇳 (@ItzEnaya_) March 12, 2019
Perfect star cast
The #KalankTeaser Was Awesome

And The Cast Of The Movie Is So Brilliant.👌 @aliaa08 @Varun_dvn @MadhuriDixit @sonakshisinha @duttsanjay

Releasing On 17th April 2019. pic.twitter.com/B5QYCe1CKI

— Vishal Rao (@VishalR31672938) March 12, 2019
Kalank is Karan Johar's father, Yash Johar's dream project that the filmmaker today is trying to project. Well, K Jo, all we can say is that your father would have been immensely proud of you today for the way you have put his vivid imagination to display on the big screen. Here's raising a toast to your vision and for accomplishing something on your father's behalf.