Kangana's famous interview with spiritual guru Sadhguru sparked a lot of controversies when the video of the same was made online. Many Twitter users were irked with their one-sided and allegedly bigoted views on cow slaughter, lynchings and liberalism. During the course of the interview, Kangana claims that she is against cow-slaughter, as Hinduism forbids it and it has to be respected. She also revealed that a scene in her upcoming film, Manikarnika: The Queen of Jhansi has to be changed, where a calf was replaced by a goat, because the makers feared they would be accused of cow vigilantism.
However, the internet is a strange phenomenon that hides some of your past transgressions and then springs them up on you at the most inappropriate times. A Twitter user, going by the handle SupariMan, has dug out an old interview of Kangana's where she claims she is a regular beef-eater! The article, published in 2012 in The Film Street Journal, has a compilation of many celebs' eating habits and it's here where Kangana claimed that she loved eating beef steaks. She also mentioned that her affinity for beef was mainly because it was 'forbidden'.
Irony!! Kangana who love eating beef steak, lamb, chicken, deer, rabbit meat was crowned hottest vegetarian by @peta in 2014. pic.twitter.com/Tkl6rRdgd8

— SupariMan™ (@SupariMan_) August 20, 2018
The same interview also had her mention that she loves trying different types of meat, including rabbit and deer.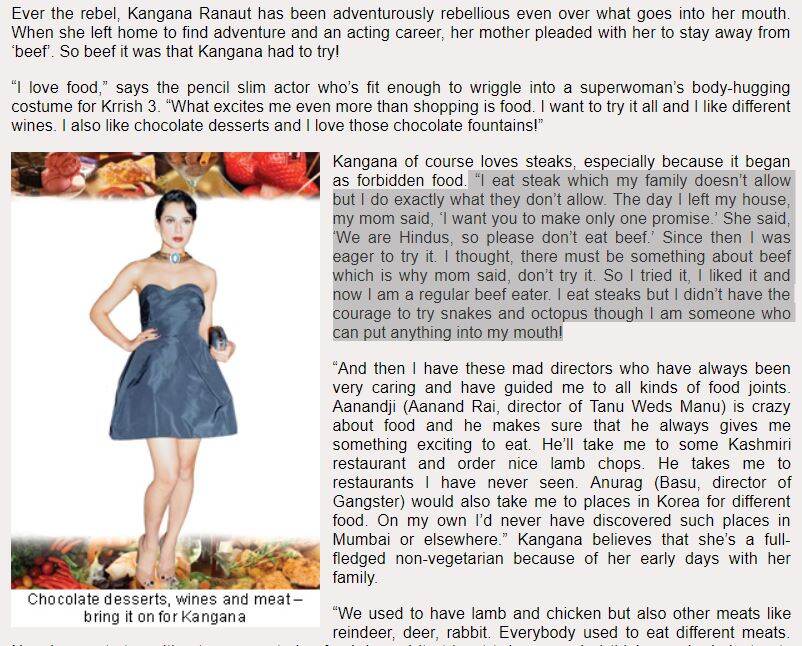 Two years after the interview, Kangan had won the PETA award for her stand on vegetarianism in 2014 (along with her Rangoon co-star Shahid Kapoor). So it can be assumed that Kangana must have changed her eating habits by then. However, the same Twitter user also pointed out another article in Boldsky.com, published in 2018, where she talks about the diet and fitness regimen she follows. In the article, there is a mention of grilled chicken and eggs in her diet.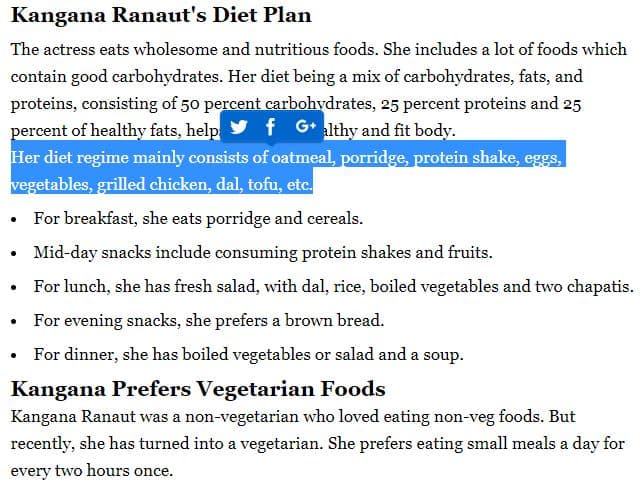 Interestingly, the article also claims that she is a vegetarian, so wondering what's the deal with that!
To be fair to Kangana, the first interview had come out six years ago and a lot has changed in the passage of time (including a change in regime). So there is quite a possibility that she has seen the 'error' in eating habits and has changed them to align with her ideals. But, like they say, past surely has this annoying habit to catch up with you, when you want it to be forgotten.
(The above story first appeared on LatestLY on Aug 21, 2018 10:15 AM IST. For more news and updates on politics, world, sports, entertainment and lifestyle, log on to our website latestly.com).