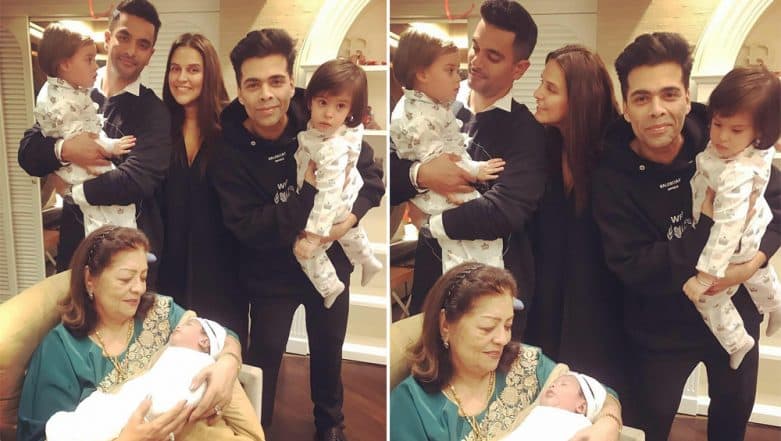 Karan Johar is over the moon today and the reason is the closest to his heart. The Filmmaker is all set to celebrate his twin babies, Yash and Roohi's second birthday today. KJo has always been that super-emotional and super-proud dad who always spoke at length about his kids during the interviews. Now, before he starts celebrating the special day with his kids, it was Bollywood couple Neha Dhupia and Angad Bedi's turn to surprise us with an extra adorable picture of them! In fact, there is also their own daughter, Mehr Dhupia Bedi here. Karan Johar's Little Munchkins Yash and Roohi's Latest Picture Makes for an Awesome Baby Magazine Cover – View Pic.
The Bollywood diva shared two cute snaps on her Instagram account. While Angad is holding Yash, Karan is with his daughter, Roohi. Meanwhile, Karan's mother is taking care of Mehr. This Pic of Mehr Dhupia with Angad Bedi is a Proof That She is Daddy's L'il Girl!.
Neha wrote in her caption, "#happybirthday my dearest Roohi and Yash ... I still remember the first time we met and both of you screamed out loud ... "bbbbaaaaabbbbbyyyyyy".... I may not be joining you for your birthday celebrations this time as I will be busy ... but I promise I ll create havoc with you very very soon... @mehrdhupiabedi"
Check Out These Two Adorable Pics of Yash, Roohi and Mehr
The cute babies of Kjo have been making occasional appearances on social media, thanks to their dad's enthusiasm. Also, they are already very close to film stars like Alia Bhatt and Varun Dhawan.
Speaking of film stars, many of them will be gracing Yash and Roohi's second birthday party today, along with their toddlers. As per the reports, there will be a grand party hosted today in a plush hotel in Mumbai. Celebs like Kareena Kapoor Khan, Tusshar Kapoor, Shahid Kapoor, Shweta Bachchan, Alia Bhatt, Varun Dhawan to name a few are likely to grace the bash.