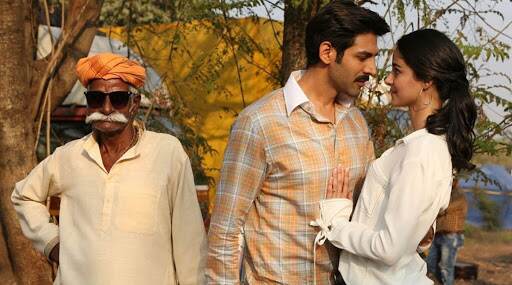 Pati Patni Aur Woh is earing pretty well at the box office and thus Kartik Aaryan has moved on to Dostana 2. But it seems for just one last time he went back to PPAW. He shared an announcement about Dostana 2 with PPAW on his mind and Ananya Panday in his arm. Now if you are wondering if Ananya has joined Dostana 2, then we don't think that's what Kartik was hinting at. He might have just strung the two films together for impact. Janhvi Kapoor is part of the sequel along with newbie Lakshya.  Karan Johar on Dostana 2: 'Representation of Gay Characters Will Be Accurate and Non-Caricaturish'
Kartik writes, "Kartik Ananya Aur Woh Subtly moving on to the next one !! #PatiPatniAurWoh #Dostana2 Prep 😂." Now those who have watched Dostana (we pity you if you haven't) are aware that the film used the gay love story angle in the premise although it was far removed from that. It made for a fun watch. Kartik in this picture can be seen holding the hand of another man while Ananya is in his arm. It is reminiscent of Pati Patni Aur Woh's first look after the cast was announced.
Check it out here...
It seems Kartik has a thing for the reprised genre. If we don't consider his Pyaar Ka Punchanama series since it's his own franchise, he was part of Atithi Tum Kab Jaoge sequel. Pati Patni Aur Woh is a remake and now he has moved on to Dostana 2. Soon he will be seen in Bhool Bhulaiyya 2. Apart from that, remixes in his movies are common.