Malaika Arora and Arjun Kapoor are taking baby steps in making their relationship official. Though we don't really know their dating history, it's safe to assume that they have been going strong since a couple of years. While they were earlier hesitant to come out in open and acknowledge their affair, they couple ha no qualms today. From agreeing that he's no more single to planning dinner dates and mingling with her group of friends, Arjun is going all out with her relationship and so is Malaika. Though she is reluctant to discuss her personal life, she has her own way of saying things. Like wearing a pendant that reads 'AM'. Malaika Arora and Arjun Kapoor Get 'Close and Cozy' in Their Recent Picture With Her Gang of Friends.
Of course, this AM can mean anything. It could be Arora Malaika or it could be the initials of her son's name, Arhaan and Malaika or it simply can be related to her beau, Arjun and Malaika. While the intention behind wearing could be any, we would like to believe it stands for her new relationship. This Munni of Bollywood took to her Instagram to share a picture of her new pendant and leave her fans puzzled to figure out the intention behind it. Priyanka-Nick, Malaika-Arjun, Ranbir-Alia: After Deepika-Ranveer, We Can't Wait to See These Couples Get Hitched!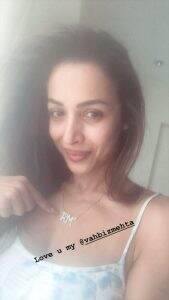 While a lot has been spoken about their affair, it's safe to say that they have no plans on getting married anytime soon. Though Arjun revealed that he's ready to settle down, he won't plan it unless his sister, Anshula Kapoor is ready to tie the knot. So yes, you won't get to hear any wedding bells for this couple in 2019. They will maybe plan it in 2020.