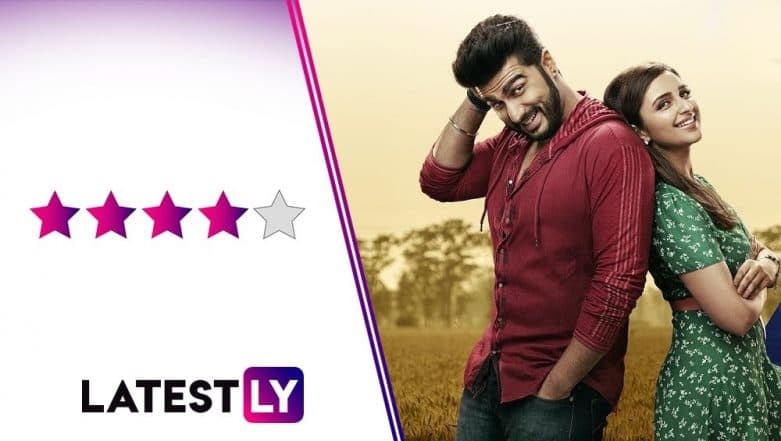 Parineeti Chopra and Arjun Kapoor reunite for the second time, after playing the leads in 2012 film Ishaqzaade, for Namaste England. The movie, directed by Vipul Amrutlal Shah, is a sort of sequel to his own film Namastey London that came out in 2007. The first movie had Akshay Kumar and Katrina Kaif in the lead, with Rishi Kapoor and Upen Patel in supporting roles. The movie was a big hit in the year that came out, therefore expectations are high from the sequel too! Namaste England Meets Namaste London: Katrina Kaif Goes Missing From This Picture of Akshay Kumar, Arjun Kapoor and Parineeti Chopra; Here's Why!
One of the best things about Namastey London was the soundtrack composed by Himesh Reshammiya. Songs like Main Jahaan Rahoon, Rafta Rafta and Chakna Chakna are still favourites among the music lovers. So that's another benchmark that Namaste England has to cross with its songs. While two of its seven tracks have been 'borrowed', there are five original songs composed by Mannan Shah with lyrics by Javed Akhtar. Here's our review of the Namaste England album -
Tere Liye
We loved this song when we heard it in the trailer. And we have no change in that opinion when we hear it in the full version. Beautifully sung by Atif Aslam, putting his trademark high-octave singing to the best use here, and well complemented by Akanksha Bhandari, who joins him later. Also brownie points for composer Mannan Shah for a lovely start to the album.
Bhare Bazaar
Going by the trend of revisiting old hits, Rishi Rich brings his own 2006 song by the same, and the new version is equally addictive. Not a fan of Badshah's rapping here (why do every such song need rap elements?). However, the rest of the song is foot-tapping with Vishal Dadlani and Payal Dev adding spunk to the proceedings.
Dhoom Dhadaka
Mannan Shah returns to compose another romantic rack, this is time slightly fast-paced and livelier than Tere Liye. Dhoom Dhadaka uses Punjabi beats and lyrics to its advantage and creating a pleasant track, that will surely lend well to the big screen too. Is it me or did I also some sense Rahman influences here? Though this line,'Jab se hai tujhko taada, tab se main ratun pahaada'  definitely stood out for sounding a little ridiculous. However, the music makes it lovely! Shahid Mallya and Antara Mitra have sung this track.
Tu Meri Main Tera
Mannan Shah is quite on form in this album, as he delivers another pleasing track with Tu Meri Main Tera. The battle is half-won if you manage to rope someone as accomplished a singer as Rahat Fateh Ali Khan. This qawwali track may not be as memorable as Namastey London's Main Jahaan Rahoon, but manages to resonate with you with its lovely lyrics, lilting tune and Khan's sublime singing.
Kya Kahoon Jaaneman
Namaste England just went sultry with Kya Kahoon Jaaneman, that reminds of of those club tracks of yore with its jazz elements and electric guitar strumming. It might be played during the first-night sequence between Arjun Kapoor and Parineeti Chopra's characters in the film. The always awesome Sashaa Tirupathi completely owns the song, that is good while it lasts.
Ziddi Hai Dil
The composers himself takes the mike this time with Ziddi Dil. Mannan Shah composes and croons this romantic track that is very unusual in how it's composed. Ziddi Hai Dil allows Shah to experiment with the range in his voice, going from low to high, slow to fast sometimes within the same lines. However, we do wish if he had opted for Atif to sing this track, as there are still some rough edges in the way he has sung here. As a composer, though, Shah gets high points.
Proper Patola
A lot has been said about Proper Patola, the track that Badshah has brought back from his bag of earlier hits. The verdict is on you, where the original track or the newer one is the better. However, in an album that has so many good original tracks, it bothers me why the makers opt for old hits to make their movies click with the audiences.
LatestLY's Favourites
Tere Liye, Dhoom Dhadaka, Tu Meri Main Tera, Ziddi Dil
Final Verdict
Composer Mannan Shah has created some lilting tracks for the Arjun Kapoor-Parineeti Chopra starrer, a couple of them perhaps the best of the year. Tere Liye is already a chart-buster and If the movie works at the box office, I am sure, songs like Dhoom Dhadaka and Ziddi Dil would also be hits. Time can tell if Namaste England's album can have the longevity of that of Namastey London.