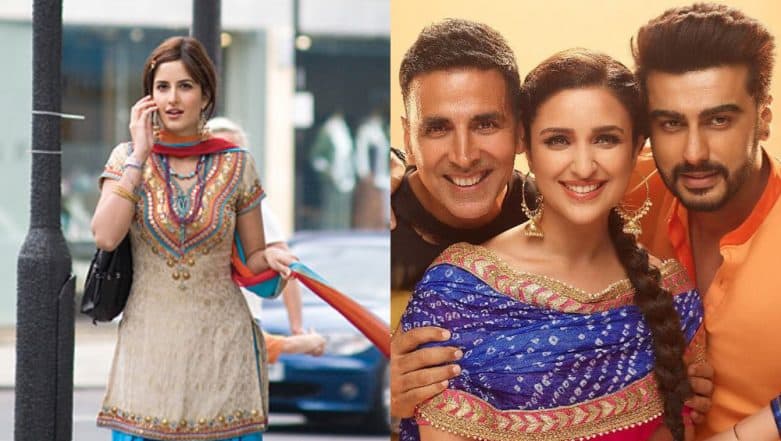 Akshay Kumar's 2007 film Namaste London is hands down one of the most entertaining films ever made. It's spiritual sequel, Namaste England, is all set to release this month. The movie stars Parineeti Chopra and Arjun Kapoor who are on full-throttle mode these days to promote the film. In a recently released picture, Akshay can be seen posing with them. 'Proper Patola' All Set to Be This Season's Dance Anthem!
The only missing element in this picture is Katrina Kaif. She was the female lead opposite Akshay in Namaste England. And would have loved to see here in this frame. But there is a reason why she is missing here. Turns out, this was not a pre-planned photoshoot with Akshay.
Akshay and Parineeti-Arjun happened to be shooting at the same studio one fine day. Akshay came down to meet the cast and crew of the film and posed with the young stars. "A few days ago, we were doing a photo shoot at Mehboob Studios. Akshay was also at the studio, shooting for an ad. We both met each other warmly; Akshay even insisted on taking pictures with Arjun and Parineeti." Vipul had said in an interview with Mid-Day, back on October 5.
Akshay Kumar Meets Arjun Kapoor and Parineeti Chopra
NAMASTE original khiladi! He's given us nothing but love since the first day 🧡🧡 @akshaykumar @arjunk26 pic.twitter.com/c56WbzgsYo

— Parineeti Chopra (@ParineetiChopra) October 15, 2018
While fans would have killed to watch Akshay Kumar in Namaste England, and makers did try to get him on board, it just could not happen. Director Vipul Amrutal Shah has said, "Akshay came up with the story of Namaste England. I had planned to make it with him. However, things did not work out due to his busy date diary. In fact, it was Akshay who suggested that I roll the film with someone else,"
So, seeing Akshay pose with Parineeti and Arjun, who are in their movie getup, is the closest thing we have to him starring in Namaste England. Well, who knows the actor might have a secret cameo in the film. We will find out when the movie releases on October 18.